April 25th, 2010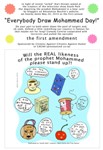 Last week, South Park creators Matt Stone and Trey Parker drew a cartoon which attempted to depict the Prophet Mohammed.  In response, a group called Revolution Muslim posted a picture of Theo Van Gogh, a Danish cartoonist who was murdered for making a film critical of Islam, as he was lying dead in the street.  Then they said, "We have to warn Matt and Trey that what they are doing is stupid and they will probably wind up like Theo van Gogh for airing this show.  This is not a threat, but a warning of the reality of what will likely happen to them."
Matt and Trey went on with the episode anyway.  Comedy Central censored it.
The show was not canceled, but the references to Mohammed were edited out by the network, as was Kyle's finale speech about intimidation and fear.  Apparently even making reference to Muslim intolerance is considered too intolerant by radical Islam.  The real irony of the show is that Trey and Matt didn't even intend to come up with a realistic depiction of Mohammed; what turned out to be beneath the bear suit was actually Santa Claus, not the Prophet.
The decision was criticized by many, including Jon Stewart, who decried the group's reliance on our tolerance of their free speech rights even as they lived in the shadow of the destroyed World Trade Center.  He then went through a reel of the show's mocking of various religious faiths over the years, including Islam, and ended his tirade with a mock gospel chorus singing to the group: "Go F**k Yourselves."
Normally, that'd be the end of the story, but columnist Dan Savage came up with an idea.  He has declared May 20th "Draw Mohammed Day," both to water down the target pool and defend our rights as enshrined in the First Amendment.  Personally I think pictures of Mohammed portrayed as a pig, a picture of a woman in a burka with the word "censored" written all over it, or the traditional Muslim man with a bomb turban would all be appropriate.  After all, we don't actually know what he looks like because of that pesky Islamic prohibition about portraying him, so we have to be sure we cover all the bases.
Contrary to the "hatred" and "anger" some may accuse me of expressing in this post, I truly have no problem with Muslims in America.  However, I do ask those who have made this country their home to embrace it with their minds and hearts as they have embraced it with their feet.  To me, this means that they must follow three basic dictates: support their own existence, learn the language of the majority, and obey the law and the U.S. Constitution.  As far as I am concerned, if you can't practice your religion without doing those three things, then your religion isn't worth practicing — or respecting.
Articles written by Brianna Aubin
Tags: censorship, Comedy Central, Jon Stewart, Mohammed, prophet, South Park
Categories: Arts, News, Politics | Comments (8) | Home
Leave a Comment
(To avoid spam, comments with three or more links will be held for moderation and approval.)