May 25th, 2010
By Brian Bagent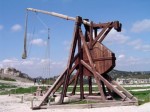 I think I'm going to build a trebuchet outside Brownsville and start a campaign to launch all of these hypocrites over the Rio Grande.  It'll be a big trebuchet, maybe with a 40 foot arm and about a one-ton counterweight.  I might even be able to toss them all the way to Mexico City.  Mexican president Jose Calderon gets the first ride.  Then we can go with the Los Angeles city council.  They'll have to do it by lottery.  I won't even charge any money.
Ahhhh, the irony.  And the ignorance.  And the cynicism.  And the hypocrisy.  And the stupidity.  But I digress.
Calderon.  He's one to talk.  Guatemalans have been executed for illegally crossing Mexico's southern border.   Maybe that trebuchet should be powerful enough to launch him all the way to Guatemala.  Maybe if he could figure out a way to fix that cess-pool of a country he's in charge of we wouldn't have so many problems with his citizens paying coyotes huge sums of money and risking death to escape there to come here.
The LA City Council.  If I'm lucky, my aim will put them in one of the many slums of Mexico City.  If they're lucky, they'll be able to sneak to the American embassy before they get arrested and stuck in some rotten, stink-hole of a Mexican jail for being there illegally.
Eric Holder, the United States Attorney General.  Aren't attorneys supposed to know the answers to questions before the questions even get asked?  How about "I'll take U.S. Code Title 8 for $1000, Alex."  Or maybe "I'll take California Penal Code Sec 834b for $800, Alex."  And this guy has a law degree?  I'll include copies of Title 8 USC, The new Arizona law, and the old California law (at no additional charge, of course, even though those law books are insanely expensive) for his flight down.  Maybe he'll take a care to read all of it since that's what lawyers do.  I doubt it.  But I better not forget to send a 1099-misc to the book store.  It wouldn't do to have Holder sneaking back across the border and sicking his goons on me for not complying with the tax code.
Nancy Pelosi.  Wow.  Where do I start.  According to her, the whole purpose of enacting legislation is so that we will then read it and know what is in it.  Or maybe she just doesn't like to read any of it.  I'll include a copy of Go, Dog. Go!
for her.  It has big, pretty pictures in it.  Now I think about it for a second, Oh, the Thinks You Can Think!
might help her to realize that she should use her noodle as something besides a hat rack.  I won't charge her for the book, either, though in her case I should probably make an exception.
Dare I even mention the President?  Oops.  I guess I just did.  I'll build a tandem sling for him and his smug, self-righteous, sack-of-feces press secretary Robert Gibbs.  They can lie to each other about how horrible Arizona is on their flight down.  Who knows, they might even believe the bilious crap they spew to each other.
And while they might not have made national news, the Austin, Texas city council gets the ride also.  I'm sickened by the fact that they live in a county named for the commander at the Alamo, William Barret Travis, and have the temerity to talk about how ugly the Arizona law is.  Maybe they should rename Travis county "Reconquista County."  But not before I launch them to Mexico.
It would seem that the California Penal code, Sec 834b, has verbiage that is nearly identical to Arizona's much-vilified new immigration law.  It's a pity that none of the detractors have bothered to read the Arizona law, and even worse that they haven't bothered to read California's.  Or Title 8 USC, for that matter.
All of this folderol has to be some of the worst grandstanding and posturing in my memory.  I am so disgusted that I'm just drawing a blank now.  I've used all of the vitriol (there were about 10 gallons of it the last time I checked) in that gas can I keep out back.
On second thought, I could make some money off of this.  I could start a franchise business and sell trebuchets to other people to launch all of the other despicable hypocrites over the border.  If I do it by myself, it might take me a while.
Articles written by Brian Bagent
Tags: 1099-misc, Arizona, border, California, illegal, immigration, Mexico, trebuchet
Categories: Humor, Law, Politics | Comments (10) | Home
Leave a Comment
(To avoid spam, comments with three or more links will be held for moderation and approval.)