May 1st, 2010
By Tom Carter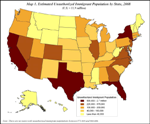 There's a lot of political chattering and commentating in the media these days about illegal immigration (for example, here, here, and here).  The current high level of consternation was caused by a new law in Arizona, which basically is an attempt to step into the void created by the federal government's long-term failure to enforce the nation's southern border and deal with people now in the country illegally.
It's not that no effort has been made by the federal government to deal with the issue.  The Immigration Reform and Control Act of 1986 was the most recent comprehensive effort to deal with the problem.  So why are we still wrestling with it?  Because then as now, we still aren't controlling the border.  Beyond that, the provisions of the 1986 law weren't adequately enforced, particularly in regard to employer sanctions.
The problem now is pretty much the same as it was 25 years ago, except worse in all respects.  Our failure to control the border at a time when foreign-sponsored terrorism is much higher than it's ever been is a travesty.  The violent drug wars in Mexico are now spilling across the border into the U.S.  The number of illegal immigrants in the U.S. today was maybe six million 25 years ago; today it may be 12 million.  We didn't know back then what the real number is, and we don't know today.
Arizona's new law isn't the only state law that attempts to deal with illegal immigration, but it's certainly the most stringent — draconian, some say.  The new law makes it a criminal offense to be an illegal immigrant in Arizona.  It requires, among other things, that police officers stop and question anyone they believe may be illegal, based only on "reasonable suspicion," which isn't clearly defined.  It also permits citizens to sue police departments who don't seem to be enforcing the law sufficiently strictly.
Although a majority of the citizens of Arizona support the law, many don't, including chiefs of police.  Two lawsuits have already been filed challenging the constitutionality of the law, and there will most certainly be more.  The basic issues are that the law expands and pre-empts federal law and constitutional prerogatives and that it will create due process and equal protection violations by selecting certain people for police attention without sufficient cause.  It's difficult to see how the law can survive constitutional challenges.
This is a bad law.  It not only encourages racial profiling, it requires it.  It significantly reduces protections against arbitrarily being detained and questioned by police.  It's a step toward requiring citizens to carry identity papers, something that's never been done in America.  It discourages illegals from reporting crimes, cooperating with authorities in any way, seeking medical attention, responding to the census, and educating their children.
Some may say, "So what? They shouldn't be here anyway."  True enough, but do we really want American citizens who are Latino to be subjected to unreasonable police attention because of their appearance and language skills?  Do we want them to have to carry identity papers at all times to prove their citizenship, while citizens who don't look Latino don't have to do that?  Do we want illegals to be sick, possibly with infectious diseases, because they're afraid to seek medical help?  The list of undesirable consequences of Arizona's new law is long indeed, and it's hard to find much in it that's positive.
We must have a reasonable, comprehensive immigration law that goes beyond the 1986 law and is enforced.  It must include resources and a mandate that requires effective border control, employer sanctions with teeth, a rational path toward legalization for those already in the U.S., and workable procedures for detaining and deporting illegals who are criminals or who can't otherwise be legalized.  Finally, it must include a guest worker program to permit temporary workers to be in the U.S. to the extent they are needed, and it must establish new, reasonable immigration quotas for those with needed skills who wish to come to the U.S. legally.
Frankly, I don't have much hope that effective immigration reform will be passed or, if passed, properly enforced.  There are simply too many ideologues among politicians and the public today.  Because one side or the other disagrees with specific necessary provisions of any reform, the whole effort will be killed or so twisted out of shape that it won't work.  That means the states, and the people, will be left to deal with the problem mostly on their own, as they are now.
As I said, Arizona's new law is bad.  Other states will adopt similar laws, and they'll be bad, too.  But until the federal government gets its act together and starts doing its job, states and their citizens, especially those on the southern border, won't have much choice.  We should all keep this in mind when the ideologues of left and right begin ripping into each other over immigration reform.
Articles written by Tom Carter
Tags: alien, Arizona, conservative, illegal, immigration, Law, liberal, reform
Categories: News, Politics | Comments (13) | Home
Leave a Comment
(To avoid spam, comments with three or more links will be held for moderation and approval.)