June 30th, 2010
By Tom Carter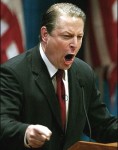 Most folks know by now that Al Gore got a massage in a trendy hotel in Portland, Oregon back in 2006.  Nobody cares, except that the masseuse has reported that globally-warmed Al got pretty randy with her.  Back when she first complained, she declined to be interviewed by police, and they dropped it.  Now she's back, and she's given the police a lengthy, explicit statement.  You can read the smarmy details for yourself.
When it first came up, the mainstream media declined to run the story for obvious reasons — I mean, come on, this is Al Gore.  More recently the masseuse, unnamed as far as I know, offered to sell the story to the National Enquirer for $1 million.  They declined to pay her — not out of principle, of course, but because they managed to get her report from the police.  The necessary bribe(s) probably cost them a lot less.
Why is this important?  Well, it isn't, really.  It's not like Al the "crazed sex poodle" was a government official and she was an intern or something equally unlikely.  What caught my attention was in a report in the Washington Examiner:
Finally she got away [from Gore]. Later, she talked to friends, liberals like herself, who advised against telling police. One asked her "to just suck it up; otherwise, the world's going to be destroyed from global warming."
Ah, so that's it!  Well, I guess since his global warming shtick has made him very wealthy and got him a Nobel Prize and an Oscar, it might as well protect him from a sexual assault charge.
As for the masseuse, she's obviously after money, and that's fine with me.  Al is flush with ill-gotten gains, and since it's a classic he-said, she-said situation, she might as well get some cash out of it.  And who knows; Al may be eager to settle, since she reportedly kept the clothes she was wearing that night, and they're still stained with, ah, certain fluids that might provide DNA support for her version of what happened.  (Somehow, that sounds familiar….)
Articles written by Tom Carter
Tags: Al Gore, DNA, global warming, massage, masseuse, poodle, stains
Categories: Humor, News, Politics | Comments (17) | Home
Leave a Comment
(To avoid spam, comments with three or more links will be held for moderation and approval.)