June 6th, 2010
By Larry Ennis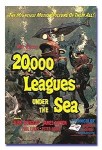 The great BP oil spill that is destroying the Gulf Coast brought back some old memories. When I was a young man one of my heroes was a gentleman named Al Hanson. Al, his wife Norma, and their daughter Jeanie were our neighbors. We lived in a small suburb of Avalon, California. Avalon is the principal city on Catalina Island. The island makes it's livelihood by catering to the tourists who flock there between the beginning of May and the end of September. There was a small population that, including my family, lived there year-round. Our home was located in a small settlement called Pebbly Beach (not to be confused with Pebble Beach). I can't recall the total number of families living in the settlement, but I'd estimate thirty at least.
Al was a "hard hat" deep sea diver of some renown. Based on Catalina, his company provided deep sea salvage for the whole West Coast. Hanson also had a tourist-related business on Catalina. Al and Norma were far and away the most well known couple in the field of deep sea/deep water diving. Norma had become a diver to better understand her husband's work. She was an excellent diver and for years held the women's world record for a deep water dive of 1200 feet.
The reason I bring these folks up is because of the gift they had when it came to solving problems related to the sea/ocean in general. Undersea photography today uses many of Al Hanson's innovations, as does deep sea diving in general. Like so many other things in our society, it seems we no longer produce people like Hanson. The incentive just doesn't exist. I worry that our society, like a great spring-driven clock, is slowly winding down with no one to rewind it.
In my opinion the crisis in the Gulf of Mexico shows how little we are prepared for any major disasters. People who can think outside the envelope have been replaced by the products of a system that values diversity above all else.
Most of Al and Norma's real exploits came after my family moved away from Catalina. Al, working with University of Southern California, designed a compact portable decompression chamber. The chamber's purpose is to help divers who have surfaced too rapidly from a dive (over 80 feet deep). As the water pressure decreases, the gases in your bloodstream expand, which can cause blockages and even death. This is known as caisson disease or more commonly known as the bends. The chamber is now being used worldwide to save the lives of divers.
The Hansons did a lot of movie work as advisers or stand-in's for the actors. My Al Hanson and his friend Al Hansen did most of the underwater scenes for Walt Disney's movie 20,000 Leagues Under the Sea. Strangely enough, only Hansen shows up in the credits, but Hanson is shown and identified in pictures of the diving crew. Norma didn't appear in anything to match the Disney movie but did appear in many B-grade horror movies that used sea monster story lines. Most notable of these was Creature from the Black Lagoon. Norma played the part of the creature.
Well, I suppose its all just wishful thinking. The likes of Al and Norma are mostly memories today. There's no one left to take charge and get things done without worrying about who gets mad or offended. The destruction of the Gulf is well into the second month with no end in sight. It's hard to accept, but there are people among us who will profit from this disaster. They will take advantage of this killing of the Gulf to whatever degree they can. Short-term gains for permanent losses.
Do I think the leak can be stopped? Yes, and probably a lot sooner. Why didn't we cut the pipe and insert an inflatable device on the lines of a medical catheter and inflate it, causing blockage in the pipe?
Articles written by Larry Ennis
Tags: BP, Catalina Island, deep-sea diving, disaster, oil
Categories: Arts, News, Politics | Comments (1) | Home
Leave a Comment
(To avoid spam, comments with three or more links will be held for moderation and approval.)