June 19th, 2010
By Tom Carter
As noted in an earlier article, the actor Kevin Costner started a company 17 years ago with his own money to develop equipment that could separate oil from water.  The problem was, he couldn't generate any interest either in government or private industry.
Looks now like that may be changing.  According to this report, Costner and BP have signed a contract to put 32 of his company's units to work in the Gulf.  This is nowhere near a complete solution, and it's very late coming.  Still, progress is progress, I suppose, no matter how little or how late.
Louisiana Governor Bobby Jindal has made impressive efforts to help his state fight the oil spill.  One of his initiatives was to deploy 16 vacuum barges designed by the Louisiana National Guard.  This low-tech solution was simply a matter of taking the barges out and sucking oil off the water.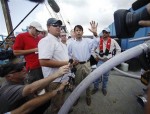 But the work of the Governor's barges has been hampered by the Coast Guard.  Earlier this week, they sat idle for an entire day because the Coast Guard had to inspect them for safety — life preservers, etc.  Fine.  But one would think that the Coast Guard would get that done immediately so work could continue unimpeded.  Even now, though, there are still problems getting the inspections done, and the Governor is more than a little irritated and is making it known.  Good for him.
I lived in South Louisiana, Cajun country, for a few years as a kid and then again as a young adult.  I love the people and their culture, and in addition to traveling throughout the region on the ground, I've flown in small airplanes all over the Gulf coastal area from New Orleans west to the Texas border.  It's a beautiful area, bountiful with wildlife and ecologically fragile.  We simply have to protect this area; losing it isn't an option.
In addition to the coastal areas of Louisiana, the oil spill will likely devastate the fishing and tourism industries in Louisiana, Mississippi, and Alabama and maybe in Florida, too.  The economic losses, including huge numbers of jobs, will be severe and long-lasting.  Everything that can be done to prevent or at least minimize this has to be done.  It's too late to say it has to be done quickly; we've already missed that one.  But it isn't too late to do everything possible from this point forward, to include employing innovative solutions like Costner's and Jindal's as quickly as possible and without bureaucratic obstacles.
In the wake of this disaster, it's going to be too easy to decry offshore drilling and demand that it be stopped.  We'll hear this from politicians and environmentalists who are either at a loss for valid responses or who are using the disaster to further their standard agendas.  We can't let that happen.  We have to have the oil from offshore wells, and we have to learn the difference between normal offshore drilling and deepwater drilling.  Beyond that, the oil industry is also a huge part of the Gulf coast economy, with many jobs dependent on it.
Fix the problem, do it soon, and keep a grip on reality in the process.  There's no room for partisan politics or grandstanding and finger-pointing.  Those who engage in such counter-productive activities are part of the problem.
Articles written by Tom Carter
Tags: Costner, Gulf, Jindal, offshore drilling, oil industry, oil spill, vacuum barges
Categories: Economics, News, Politics | Comments (5) | Home
Leave a Comment
(To avoid spam, comments with three or more links will be held for moderation and approval.)