June 12th, 2010
By Larry Ennis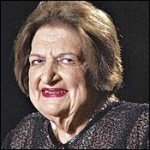 Having become a victim of old age myself, I have a certain affinity for Helen Thomas and old people in general. Never a fan of Thomas because of her liberal venom and self-righteousness, I should be delighted with her present predicament. I say "should" be, but in fact I'm far from it. Even though Thomas has been little more than an opinionated and bitter old crone for the last decade or so, she is a character that defines us in many ways. We have grown to accept most of her idiosyncrasies because she is, to a degree, a part of each of us.
Please note that my condemnation of Thomas, though pretty stinging, does not include any claims of her being stupid. No way, not even on her worst day. She has written five books and won more than a few awards and commendations for her journalistic endeavors. Having said that, I was taken aback by her statements concerning Israel. According to one report,
In an reply to a question, "Any Comment on Israel?" posed to her on Jewish American Heritage Month Celebration on May 27, She said, "tell them to get the hell out of Palestine."

She further said, "The Palestinians are 'occupied' and that the Jews should 'Go Home'—to Germany, Poland, America and everywhere else."
It could be argued that Thomas was taken out of context, maybe even led on into saying something controversial. The resulting fallout from her comments has become fodder for both sides of this issue.
Thomas started her journalism career in 1943 at the now-defunct Washington Daily News. She graduated from Wayne (now Wayne State) University in Detroit, Michigan. She was born in Winchester, Kentucky but grew up in and around Detroit. She was of Lebanese descent and one of nine children. Her first job ended when the Washington Daily News had massive cutbacks due to financial problems. Thomas was lucky enough to land a job with UPI shortly after losing her first job, and she stayed with UPI until 2000. Thomas left UPI after 57 years to join Hearst Newspapers. UPI made her their White House correspondent when John Kennedy took office. Thomas became such a fixture in the White House press corps that she was given special treatment by presidents, press secretaries, and her peers. She retained her White House position when she left UPI to join Hearst, even though she went from being a reporter to being an opinion columnist.
The thing that bothers me most was the glimpse of panic I saw in her eyes as she understood too late that she had lost it all in a single bad choice of words. All those years invested in a career most likely tarnished forever. Of course, Thomas is old and was overdue to retire, but not amid such controversy. She should have known that unlike her very vocal damnation of George W. Bush, she couldn't say what she did about Israel, at least not without creating a controversy. Thomas is obviously not a great supporter of Israel or the Jewish claim on what was at one time Palestine.
Never a fan of Thomas, I still feel a certain amount pity for her plight. Living in this world of political correctness is difficult at best. I say political correctness because from 1948 until the present the U.S. has always been very pro-Israel. Only recently has there been an effort in some quarters to penalize or punish Israel because of its efforts to occupy the West Bank and contain the Palestinians within the area known as the Gaza Strip. Our State Department and our President have both turned very cold toward Israel and its government. Unlike times past, there seems to be more emphasis on appeasing Iran and other anti-Israel regimes in the Middle East. This marks a real divide in attitudes of the American people. Maybe the knowledge of such a divide caused Thomas to say what she did. As it now stands in the court of U.S. opinion, was Thomas that far out of line?
Articles written by Larry Ennis
Tags: Helen Thomas, Israel, Middle East, Palestine, retirement
Categories: Media, News, Politics | Comments (12) | Home
Leave a Comment
(To avoid spam, comments with three or more links will be held for moderation and approval.)