June 9th, 2010
By Tom Carter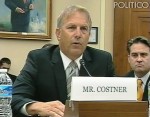 Any time there's a disaster with lots of cameras around and a chance to promote ultra-leftist ideas, we can expect the Hollywood elites to show up saying and doing stupid things.  They were out in force for Hurricane Katrina, and a number of them showed up for the Haiti earthquake, but they didn't stay long — something about a shortage of five-star hotels near the disaster area.
So imagine my surprise when I heard that Kevin Costner had testified before a congressional committee about the Gulf oil spill disaster.  Well, actually, I wasn't at all surprised.  I hadn't seen Costner doing this kind of thing before, but I figured he was just another numbskull actor grabbing some face time to spout his uninformed opinions.
So, instead, imagine my surprise when I was impressed by what he said.  Turns out years ago, in response to the Exxon Valdez disaster, Costner started a company that developed equipment that could extract oil from water at a pretty fast pace.  He did it at a personal cost of $20 million, with no investors and no government grants.  Turned out, though, that governments and private companies weren't interested.
Now, according to several reports I found like this one, BP may be interested in giving Costner's equipment a try.  They're either desperate for solutions and maybe good publicity, or maybe Costner actually has something that can work.  If that's the case, I have to wonder why no one was interested before.
Watch the video of Costner's testimony:
Articles written by Tom Carter
Tags: BP, Congress, Gulf, Kevin Costner, oil spill, solution, testimony
Categories: News, Politics, Science | Comments (2) | Home
Leave a Comment
(To avoid spam, comments with three or more links will be held for moderation and approval.)