June 26th, 2010
By Larry Ennis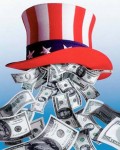 My wife and I purchased our first home in 1965. It was a three bedroom box built on a 50×120 lot. That was before many of today's ecological concerns. The house had asbestos siding and a poured basement. The price was $10,900. My mortgage payment including insurance was $67.00 each month. The neighborhood was fair and all the new little boxes looked the same. We were officially members of the Feather Stone Gardens sub-division. Jill and I were part of a growing number of young couples settling down, raising kids, paying the bills, and keeping the wolf on the other side of the door.
Buying a house and financing the purchase was common practice, but you needed good credit. Some banks would not loan to young adults, good credit or not, forcing the buyer to go though the Federal Housing Administration. FHA underwrote the banks' loans, which meant that if you moved off and left your house the government took the hit, and the bank got whatever it had in the house. Considering the number of loans made to new homeowners, FHA didn't do too bad.
Real estate at that time one of the most secure investments you could make. We sold the little house in Feather Stone Gardens for $17,500 after living there for less than three years. This first home was also the last home that paired us with FHA for a mortgage loan.
During those days there was no Fannie Mae or Freddie Mac being subsidized by Uncle Sam to guarantee everyone could live in a home of their dreams. As close as we'd come to such a government program was HUD. The Department of Housing and Urban Development became a cabinet post and got its present name in 1965. I can't really address HUD or its place in our government. I do know that there were entire communities that ceased to be when the number of mortgage-defaulted HUD houses began outnumbering the occupied homes. The condition was called urban blight.
Nobody can waste money like a government-funded program. It doesn't matter if Republicans or Democrats are involved, the waste goes on.
Not to be outdone, this administration decided to sweeten up an already sweet government program for first-time buyers. The new program gave tax credits and low-interest loans for first-time buyers.
In typical government fashion, the program was rife with loopholes. Millions of dollars were stolen due to these loopholes, including $9.1 million in tax credits to prison inmates. Another $17.6 million in tax credits went to unqualified homeowners.
Oversights and scams like this go on non-stop regardless of who is in power. We need to end it once and for all.
Articles written by Larry Ennis
Tags: FHA, fraud, HUD, mortgages, prisoners, tax credit, waste
Categories: Life, Politics | Comments (0) | Home
Leave a Comment
(To avoid spam, comments with three or more links will be held for moderation and approval.)