June 24th, 2010
By Tom Carter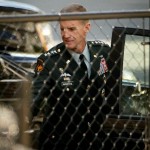 There's a lot of reporting and commentary on the saga of General Stanley A. McChrystal.  He and his staff allowed a free-lance journalist writing for Rolling Stone to spend an extended amount of time with them to gather information for a profile on the general.  The article contains highly negative comments by the general and his staff about many senior officials, including President Obama and Vice President Biden.  Neither Gen. McChrystal nor his staff have challenged the content of the profile.
The media and the blogosphere are full of reports and commentary, mostly supporting the perception that Gen. McChrystal stepped far over the line and was properly fired by the President.  I agree with that perception, and I believe that Gen. McChrystal must be charged under the Uniform Code of Military Justice (UCMJ).  That would trigger an official investigation and most likely a court-martial.
Not much is being said about this because most of the people reporting and commenting don't understand that Gen. McChrystal has apparently committed a serious violation of the UCMJ, the body of law that applies to every member of the U.S. military.  Article 88, UCMJ says:
Any commissioned officer who uses contemptuous words against the President, the Vice President, Congress, the Secretary of Defense, the Secretary of a military department, the Secretary of Transportation, or the Governor or legislature of any State, Territory, Commonwealth, or possession in which he is on duty or present shall be punished as a court-martial may direct.
The elements of proof required to support a charge under Article 88 include:
(1) That the accused was a commissioned officer of the United States armed forces;

(2) That the accused used certain words against an official or legislature named in the article;

(3) That by an act of the accused these words came to the knowledge of a person other than the accused; and

(4) That the words used were contemptuous, either in themselves or by virtue of the circumstances under which they were used.
The further explanation includes:
Giving broad circulation to a written publication containing contemptuous words of the kind made punishable by this article, or the utterance of contemptuous words of this kind in the presence of military subordinates, aggravates the offense. The truth or falsity of the statements is immaterial.
The maximum punishment that could be imposed after conviction of an Article 88 violation is:
Dismissal, forfeiture of all pay and allowances, and confinement for 1 year.
Gen. McChrystal might also be appropriately charged under Article 133, UCMJ:
Any commissioned officer, cadet, or midshipman who is convicted of conduct unbecoming an officer and a gentleman shall be punished as a court-martial may direct.
And/or Article 134, UCMJ:
Though not specifically mentioned in this chapter, all disorders and neglects to the prejudice of good order and discipline in the armed forces, all conduct of a nature to bring discredit upon the armed forces, and crimes and offenses not capital, of which persons subject to this chapter may be guilty, shall be taken cognizance of by a general, special, or summary court-martial, according to the nature and degree of the offense, and shall be punished at the discretion of that court.
I don't advocate charging Gen. McChrystal as a matter of vengeance or personal animosity.  I don't know him, but from what I hear he's an outstanding officer of exceptional ability.  However, the UCMJ applies to him just as it does to any other member of the military.  If a four-star general who apparently committed such  gross violations of Article 88 isn't charged, then who could ever be charged?  If a much more junior officer — say, a lieutenant or a captain — clearly violates Article 88, how could an officer look him in the face while reading the charges to him, knowing that a general did the same thing or worse and escaped being charged?
I've worked directly for a number of senior generals and admirals.  I've worked closely with an even larger number of senior officers and their staffs.  That includes formal meetings, one-on-one discussions, dinners, drinking in bars and clubs, and social events at their homes and mine.  Never once did I hear anything as extreme as what Gen. McChrystal and his staff reportedly said.
Charges under Article 88 are rare, mainly because it's rarely violated.  However, if because of political or other considerations Gen. McChrystal isn't charged under Article 88, then it's meaningless and should be removed from the UCMJ.
Articles written by Tom Carter
Tags: Article 88, charges, court-martial, McChrystal, UCMJ
Categories: Military, Politics | Comments (13) | Home
Leave a Comment
(To avoid spam, comments with three or more links will be held for moderation and approval.)