June 28th, 2010
By Dan Miller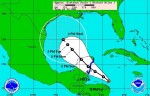 Based on the various media accounts I've read it's a mess, reminiscent of Robert Heinlein's little ditty,
"When in danger and in doubt,
Run in circles, scream and shout!"
The danger and the doubt are certainly present — probably as much of the latter as of the former, and the screaming and shouting are abundant. It seems as though an analogy to elephant matings is appropriate: lots of stomping of feet and roaring, everything done at a high level, with results, maybe, in eleven months.
While the stomping and shouting are going on at all levels, high and low, numerous foreign offers of assistance are being "considered" and multiple bureaucracies are having red tape parties. Meanwhile, tropical depression – tropical storm – tropical depression – tropical storm and maybe moderate hurricane Alex with maximum forecast winds of up to eighty-five knots may or may not be getting ready to do mischief with the oil recovery measures; unlike responses to the oil "spill," Alex is forecast to become better organized before June 30th (click image to see animated track projection).
A hurricane watch has been issued for Baffin Bay, Texas, which means that storm force winds may hit there within the next forty-eight hours. Lesser winds of gale force accompanied by high seas may strike the oily areas. If that happens, or becomes likely, whatever oil recovery steps are now in progress will be seriously disrupted for up to two weeks. Predictions of events to come in more than a day or two are useful but far from perfect. The official track guidance, provided by the multiple computer models, recently shifted a bit to the north; it is thought to be of below average confidence.
Various proposals have been made, many of them fitting into a psychiatrist friend's classification of lunatics into three groups — sad, mad and bad. Others appear to be rational and might even work were somebody actually in charge. According to U.S. Rep. Gene Taylor — a Democrat from Mississippi,
It's criminal what's going on out there," Taylor said minutes later. "This doesn't have to happen."

A scientist onboard, Mike Carron with the Northern Gulf Institute, said with this scenario, there will be oil on the beaches of the mainland.

"There's oil in the Sound and there was no skimming," Carron said. "No coordinated effort."

Taylor said it was a good thing he didn't have a mic in the helicopter, because he might have said some things he didn't want his children to hear.

"They're paying all these boats to run around like headless chickens," Taylor said, as reporters gathered to hear his assessment of the Sound.
His frustration is understandable. The Taiwanese owned oil tanker – skimmer A Whale, reported to be the world's largest, departed port in Norfolk Virginia on June 25 and should be in the area soon; maybe she will receive the authorization needed to help and a waiver of the Jones Act; or maybe but probably not. There have been many offers of assistance from other countries, and most of them remain "under consideration."
Oil skimmers are not "good enough" because they suck in very oily water, separate most but not all of the oil and discharge a very little of it back into the sea. Perfection is sometimes the worst enemy of the merely excellent.
Is all of this the fault of President Obama? Of course not. He didn't personally cause the BP oil rig to explode and sink, and apparent mismanagement by BP is largely to blame. It would have been in BP's best interest not to cut corners and thereby to create the mess. BP is paying a big price as are its stockholders and employees. BP may well face bankruptcy. Tough.
The highest price is being and will be paid by the folks living in the Gulf area and the environment in which they live and from which many of them will have great difficulty, perhaps for years, in earning a living. The psychological damage is likely also to be great.
To the extent that President Obama is to blame, it is for the abysmal lack of coordination coming from the executive branch of the Federal Government, of which he has now been the chief executive officer for seventeen months; we are now more than two months into the aftermath of the oil "spill." There needs to be coordination and the responsibility for it can't be delegated to various federal agencies with different agendas by a CEO who has little clue what's happening or what needs to be done about it. During World War II, Prime Minister Churchill and President Roosevelt were far more aware of what was happening. They both, and Prime Minister Churchill in particular, took a far more lively interest. It would not be reasonable to expect President Obama, with no executive experience and far less experience with oil "spills" than Prime Minister Churchill had with the realities of war, to come even close. Still, if President Obama is as intelligent as has been proclaimed he should bring his intellect into focus on this problem and direct his minions to lead, follow or at least to get out of the way. There are big problems and small problems, and a competent CEO should be capable of figuring out which is which and providing useful guidance in dealing with the big ones. The three most important qualities are focus, focus and focus and President Obama has thus far demonstrated not even one of them. That's a major part of the job he fought so effectively to get. Having got it, he should do it. If that helps him to keep it, so be it. Keeping it, however, should not be his principal focus.
Articles written by Dan Miller
Tags: Alex, BP, depression, Gulf, hurricane, oil, spill, storm
Categories: News, Politics, Science | Comments (3) | Home
Leave a Comment
(To avoid spam, comments with three or more links will be held for moderation and approval.)