June 14th, 2010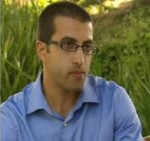 Mosab Hassan Yousef (watch video here), the Palestinian son of a high ranking Hamas member who turned spy for the Israeli Shin Bet and saved hundreds of lives through his aid in the prevention of terror attacks, is at risk of being deported from the U.S. back to the West Bank on the grounds that he is a terror threat.
That he did indeed save hundreds of lives, both Israeli and Palestinian, is undeniable.  His remarkable story, documented in his book Son of Hamas
, has been verified as accurate by the Shin Bet.  He saved the USAID Americans he worked for by warning them of impending riots.  He saved his father through his Shin Bet connections.  He gave the Shin Bet information on plots against Israeli officials, and information that helped them capture and kill suicide bombers and bomb makers.  He helped the Shin Bet document the connections between the various Palestinian groups and the organization chain of those groups.  His father has disowned him.  There is a fatwa on his head.  And he is going to be deported because in order to do this, he had to provide material support to terrorists in order to gain their information and their trust.
Those who are prosecuting him are fully aware of these facts.  Indeed, they cite his book Son of Hamas as evidence to support their claims.  According to Mr. Yousef, a letter from Homeland Security attorney Kerri Calcador cites passages in "Son of Hamas" as evidence of his connection to terrorist leaders and suggests that the work he did for Hamas while spying for Israel provided aid to terrorists. "At a bare minimum, evidence of the respondent's transport of Hamas members to safe houses … indicates that the respondent provided material support to a [Tier I] terrorist organization."
That this work was done in order to aid Israel's fight against those who would destroy her is apparently irrelevant.  That Mr. Yousef would certainly face death if he were deported to the West Bank after revealing his story to the world is also apparently irrelevant, despite the fact that the U.S. is a signatory to the Convention Against Torture, which obligates us to not return people to countries where their lives would be at risk.
Mosab Yousef is someone with unique insight into the Israeli/Palestinian conflict.  His book should be required reading for anyone curious about the situation between Israel and Palestine.  He would be invaluable as an advisor to our government on terrorism, Islam, Palestine and Hamas.  If our government had any sense they would be giving him a passport, a position, and a medal. Instead, they are trying to deport him.
Mosab Yousef will appear before Judge Rico Bartolomei in Homeland Security Immigration Court in San Deigo at 8am on June 30.  His case is being handled by:
Kelli Calcador
Senior Attorney
U.S. Department of Homeland Security Immigration and Customs Enforcement
880 Front Street, Suite 224
San Diego, California 92101
If you wish to sign a petition against his deportation, it can be found here.
I sincerely hope that Yousef is not deported, and that he continues his work against terrorism and eventually obtains American citizenship if that is his wish.  For if this is how we treat our friends in the war on terror, what hope could we ever have of defeating our enemies?
Articles written by Brianna Aubin
Tags: asylum, deportation, Hamas, Israel, Mosab Yousef, Palestinian, terrorism
Categories: News, Politics | Comments (1) | Home
Leave a Comment
(To avoid spam, comments with three or more links will be held for moderation and approval.)