July 23rd, 2010
By Brian Bagent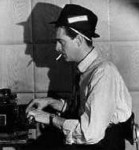 I tune in to Rush Limbaugh every couple weeks or so.  Earlier this week, he was nearly apoplectic over more discovered left-wing media bias.  I had no idea what had set him off because he's always railing against left-wing media bias.  Well, I subscribe to The Media Research Center and get e-mails from them daily.  Today I got an e-mail with a subject line of "NPR Producer Would Revel in Watching Limbaugh Die."
"OK," says I, "maybe this is what set Rush off this week."
At issue is the JournoList e-mail listserv and the way it has been used by Democrats and liberals to coordinate attacks on Republican and conservative politicians and pundits.  Rush has yakked for years about leftist talking points.  Michael Savage is downright rude with what he calls "seminar callers."  Apparently, JournoList is where many of these talking points come from.
I'm not opposed to people bouncing ideas off of each other, but how does devising a strategy to ruin the McCain-Palin ticket comport with what should otherwise be known as journalism? Apparently, part of their strategy by these "journalists" was to discredit Palin for choosing to have a child with Down's Syndrome rather than having an abortion.  I don't care what anyone's thoughts on abortion are, that is simply out of bounds for professional journalism.
That then-candidates Obama or Clinton might instruct their teams to figure out a way to destroy McCain-Palin is expected.  That credentialed journalists would be doing it is sickening.  And before any lefty has a fit about me crying over spilled milk, know that I voted for Bob Barr (the Libertarian Party nominee).
It gets even better.  Apparently, there was a plan afoot to knowingly and falsely accuse Republicans and conservatives of racism in an attempt to deflect any negative attention away from Obama's relationship with Jeremiah Wright.  Again, that Obama's team might have done this would have been expected.  But the fact is that Obama's association with Wright is (or at least was) news and should have been covered by everybody, not covered up with a pack of bald-faced lies and distortions.
Everybody has a right to a political opinion.  But, no journalist should be in the business of partisanship.  Some on the right do it, but it seems to just be part and parcel of the way liberal journalists do business.  I won't rehash everything that's been going on, but here's a link to NewsBusters' website.  You can get a better picture of what's been going on there than you can from me.
And before anyone gets their knickers in a twist over Fox News, the one thing I will say about that organization is that they do not pretend to be anything other than conservative/libertarian.  The same cannot be said of the rest of the "news" outlets.
Articles written by Brian Bagent
Tags: distortion, JournoList, leftist, lies, media bias, Palin, partisan, racism, Wright
Categories: Media, News, Politics | Comments (14) | Home
Leave a Comment
(To avoid spam, comments with three or more links will be held for moderation and approval.)