July 23rd, 2010
By Larry Ennis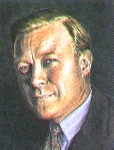 This tale is based on fact; however, I've taken some liberties and woven in some fiction as well to insure continuity.
When I was sixteen years old my best friend was a wiry little guy named Gary Navotney. Gary lived with his mom, dad, two brothers, and one sister in a house on Anderson Street in Pontiac, Michigan. His dad was a customer on my paper route. Gary and I had a mutual interest in amateur radio. This common interest led to a friendship that was one of the best in my entire life. We also shared a common trait of being "hustlers" when it came to making money. Believe it or not, hustling was considered a virtue of sorts. Most every kid in our peer group prided themselves on their ability to be as self-sufficient as possible. The work ethic of the blue collar community, I believe.
While I had several things going to earn money, Gary's sole income was from a job at a local country club. The club was for wealthy Detroit automotive executives and their equally wealthy friends. Gary shined shoes in the locker room and made good money, most of which was in the form of tips.
Wasn't very long before Gary managed to save enough to buy a used Chevy Belaire sedan. He and I now had the means to broaden our horizons, more or less. A car meant meeting young ladies and becoming popular, or so it seemed.
The Navotney family were strict Catholics. Mrs. Navotney had very strict rules about who her oldest son could date. Up until then Gary hadn't dated any at all, so mom's rules hadn't mattered anyway. That was all about to change.
Now that we had mobility, Gary and I tended to spend a lot of time looking for the perfect place where girls were all pretty, from rich families, and just crazy about us. I'll be damned if Gary didn't luck out and find just such a girl. Her name was Shirley. She had long auburn hair that hung down past her waist. She was exceptionally pretty. Her family was wealthy, she was an only child, and she was Catholic. A perfect catch, plus her mother really liked Gary. Well, actually it was only near-perfect. Shirley was only thirteen years old. At first, except for rare occasions, the young lovers spent time together only while under the watchful eye of Shirley's mom and dad.
Shirley lived in community called Lake Orion. Her father owned a supper club on the western out skirts of the little town. People drove up from Detroit to dine and dance. The place was called the Villa Inn. It sat at the corner of M-24 and Villa Lane. Villa Lane was part of an exclusive neighborhood in otherwise middle class Lake Orion, Michigan. Shirley and her parents lived a nice lakefront home just off Villa Lane. Several members of the Detroit Tigers baseball team lived in that neighborhood, as did a guy named Ed McKinsey. Ed was a local television personality and great guy in real life. He was also a fellow ham radio operator. He warmed to Gary and me as a result. We visited his home quite often.
Walter and May Reuther lived next door to Ed. Across the road from the Reuther family lived a gentleman named Jimmy Hoffa. The reason I mention this is because as time passed, Shirley's parents allowed us to visit her at home while they were away. Such a courtesy allowed us to swim and use the beach behind their house.
While Gary and Shirley spent time hovering on the edge of big trouble I got to know the neighbors. McKinsey was first. Next came the Reuthers. Last was Jimmy Hoffa. Hoffa was bigger than life, a real likable guy. With his rough voice and demeanor Hoffa could in fact walk the walk and talk the talk of a real life union boss. Hoffa had just become president of the Teamsters Union when Gary met Shirley. Hoffa liked to spend time with his family in their Lake Orion house.
Reuther didn't seem as comfortable around people as Hoffa did. Reuther had survived two assassination attempts. The last one had left his right arm paralyzed.
Both union bosses were constantly surrounded by bodyguards and staff members. Always traveling in convoys of several vehicles, their coming and going reminded me of some old gangster movie.
Strangely enough neither man ever frequented the Villa Inn. I don't think that either would have felt at ease in such a place. I suppose security considerations also played a part as well.
How these two men became the leaders of their respective labor unions makes for some interesting discussion.
Hoffa is credited with making the Teamsters a true force in the American labor movement. Unlike Reuther, I don't think Hoffa ever had an agenda except to make life better for his fellow union members. His record of clashes with the Department of Justice and especially Bobby Kennedy take nothing away from the fact that he was a member-orientated labor leader. Hoffa, unlike Reuther, had no socialist leanings or desire to become a dominating force in politics.
The Reuther brothers — Walter,Victor, and Roy — were socialists, as was their father. All three made the United Auto Workers their principle vocation for most of their adult lives.
The brothers journeyed to the Soviet Union in 1933 and worked there for two years. The Soviets forced the three brothers to leave after they expressed doubts about the communist government.
Upon arrival in the U.S. the Reuther brothers started their drive to unionize the American auto industry. Walter and Roy targeted Ford. Victor went after GM.
After success on both fronts the Reuthers now had one of this nation's biggest unions at their disposal. Their fist move was to stake out a large piece of the Democratic party. The Reuther presence extended all the way to the Roosevelt White House.
Although I got to know Walter and Victor, I never got to meet Roy. The loss of Walter Reuther in a plane crash in 1970 marked the end of an era. He led his union better than any who have followed. His two brothers continued to support the union' but times had changed and there was no place for them in the UAW of Leonard Woodcock and Douglas Frazier.
Jimmy Hoffa didn't fare much better than Reuther. He also died before his time.
His true fate was never known. All evidence points to foul play. Jimmy disappeared in July, 1975 and was pronounced legally dead in 1982. His son James, following in his footsteps, is now the president of the Teamsters International Union.
I consider myself fortunate to have known these two men. They both had a great deal of influence on this country and the lives of hundreds of thousands of American workers.
Articles written by Larry Ennis
Tags: auto industry, Hoffa, labor movement, Reuther, Teamsters, UAW, workers
Categories: History, Life, Politics | Comments (1) | Home
Leave a Comment
(To avoid spam, comments with three or more links will be held for moderation and approval.)