July 27th, 2010
By Larry Ennis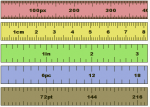 A recent post concerning "cheating" and the adverse effect it has on society caused me to remember my own guilt. Believe me, I'm guilty of more than one infraction of the cheating rule. However, I think this story has a moral value. You can be the judge.
This story, like most of my ramblings, takes place during my youth or in this case the early years of my adulthood. Some things in society at that time were very different from today. With that thought in mind, don't rush to judgment or be offended by what I'm trying to get across.
In 1974 I had been a journeyman electrician for about a year. At that time the GM plant where I worked had approximately 1,200 skilled tradespeople among its 10,000 employees. All skilled tradesmen were white except for three black men and one woman. Even though the law called for a more equal balance, both the company and the union made little effort to right the wrongs that existed. It came as no surprise that both the union and the company found themselves facing federal action.
The UAW Local 594 and GM, along with an obliging civil rights group, announced a special program to enlist more minorities in certain job fields. Like so many other plans made in haste, some dumb mistakes were made. The first mistake was the total concentration on race while ignoring the so-called gender issue. This oversight would later prove to be a time bomb. The second problem was the method used to select prospective trainees. How could the race-specific recruitment be made without causing a problem? The decision was made to not go public. Instead the company, with the union's blessing, would pick which employees to train for the new jobs. This meant the jobs were not posted for the entire membership to view as was normally done.
The skilled trades/maintenance department at this particular plant included as separate groups both the sanitation and booth cleaning departments. Both had a high percentage of black employees, and both were subject to manipulation within the maintenance group. And so it began. The group would number 35 and would be for jobs in all the trades groups.
The union contract with GM called for separate trade classifications — electrician, machine repair, pipefitter, millwright, tinsmith, and gauge/tool repair.
I point this trade division out because it is no longer the norm in today's plants. So on a Friday workers from sanitation and booth cleaners were transferred to the respective trades. In order to satisfy contract requirements, the transferred people were phased in as employees in training, or EIT. This move would circumvent the UAW apprenticeship requirements, a legal but unpopular option.
I can only wonder how these people felt on their first day on their new jobs. The majority of the journeymen refused to acknowledge the new people. Journeymen such as myself who did accept what was happening were labeled as traitors. What a terrible beginning for those people.
I cautioned earlier that these related items occurred very early in what was the start of affirmative action. Racism in Michigan was every bit as alive as it was in any southern state. I can't accept the notion that either the UAW or General Motors didn't foresee the outcome of their fast fix and how people would be treated as a result.
Because I'd been working several years at the plant, I had many friends among the sanitation workers in particular. Some of my friends were in this group of trainees. My up-bringing won't allow me to deny my friends. I intended to try my damnedest to treat these folks the way I'd expect to be treated.
For me to recount every bad thing that occurred won't serve any real purpose. Thankfully most of these bad things are no longer an issue.
Just one story I want to tell. This experience stands out above the rest. I'll try to be brief and to the point.
One of the new trainees was a black man named Clint Childers (pronounced chill-ders). I had only a passing acquaintance with him. I'd given him a jump-start or two when his old Buick didn't start in the cold weather. Clint and I did have a friend in common which was another way we knew each other. The friend's name was Ben Willingham. Ben was black and working as a trainee with me. I had grave doubts about my ability to be a good teacher to these trainees. Doubts or not, I had Ben and two others to teach and keep safe.
Clint approach me one morning and asked me to help him with a problem. Turned out that Clint couldn't read a tape measure. He admitted he was ashamed to tell anyone else. I gave him the quick version with 1/16, 1/8, 1/4, and 1/2 inch and so on. Two problems popped up immediately. The first problem was Clint was getting confused about how his tape was based on sixteen divisions to an inch. A more immediate problem, though, was he needed better eyeglasses. He couldn't quite see the tiny 1/16 inch graduations on the tape. The man couldn't be taught to understand what he couldn't see.
I knew a guy in the carpenter shop. Come lunchtime I paid him a visit and told him I wanted to make a three-foot piece of one-by-six into a one-foot ruler. He thought I was talking about a yardstick. Finally I was able to make an easy to read, not quite to scale, three feet long one foot ruler. As my dad would say , the thing was better than a sharp stick in the eye.
Next morning I saw Clint at the time clock. I told him I had a surprise for him. I asked him to come by my work wagon at first break. He showed up at my work site at 8 a.m. sharp. With the help of my "Big Foot" ruler, Clint learned more in our short break time than he'd been able to learn in all his earlier attempts. He was back again at lunch to work on improving his understanding of using a measuring tape. I gave him the over-sized teaching ruler and told him to practice whenever he had the spare time. As for me, it was Friday, with no weekend work scheduled for the electricians. Weekends off were rare, and I was feeling great about the prospects.
The millwrights, including Clint, did have to work the weekend for various reasons. Saturday morning everyone got their job assignments and headed off to the areas where the work was located. As luck would have it, Clint was late for work that morning. When he finally found the boss he was told to grab a broom and sweep until the boss could find a millwright job that required just one man. During the first break the boss came and got Clint and took him to an outside warehousing area used by the maintenance crews. The boss showed Clint a cut-off saw that was used to cut pipe, square stock, and about everything else imaginable. A large load of PVC pipe had been set-up at the saw. The boss instructed Clint to adjust the saw and cut 100 pieces each three feet long. After several minutes of panic and trying recall my tape reading instructions, Clint remembered the ruler I'd made for him. After a short walk to get the ruler he was at it again.
The following Monday morning the boss called me to one side asked me if I'd been helping Clint learn to read a tape measure. I confessed that I might be guilty. He told me to come with him. We rode his electric scooter over to the cut-off saw area. I was shown a neat pile of PVC pipe someone had cut and carefully stacked. The boss told me to measure one of the freshly cut pipes. The pipe was exactly nine feet long as were all the others I bothered to measure. To be more exact, all 100 pieces were three times the length of my large, easy to read, teaching ruler. The boss, who was a good guy named Jerry Metcif, smiled and asked me what I thought about all these nine-foot pipes that were supposed to be three feet long. A little confusion had snowballed into a minor problem but nothing unfixable. Clint mastered the tape measure and made a decent millwright. All my trainees became journeyman electricians, which pleased me very much.
If you have read this far you might consider how this story equates to questions raised earlier about cheating, lying, and why it happens so much in our society.
Articles written by Larry Ennis
Tags: affirmative action, cheating, gender, GM, race, training, union, workers
Categories: Life | Comments (3) | Home
Leave a Comment
(To avoid spam, comments with three or more links will be held for moderation and approval.)