August 26th, 2010
By Tom Carter
It would be hard to find another issue as emotional and poorly understood as the so-called mosque at Ground Zero.  The issue was created for the most part by a Muslim and his wife and became a hot potato when they announced that ground would be broken for the project on September 11, 2011 — the tenth anniversary of the worst foreign attack on American soil in history.
The imam behind the whole mess has made it worse at every step — refusing to compromise on a location, refusing to divulge the sources of funding (very little of which has been raised), refusing to call Hamas or Hezbollah terrorist organizations, accusing the U.S. of being an accessory to 9/11, and so on.
Politicians have made it even worse.  The mayor and local officials in New York have, for the most part, supported the project.  The President contributed by stating that Muslims have the right to build their project wherever they want to, sounding for all the world like he supported it, even though he denied that the next day.  It didn't help that he made the first statement at a White House celebration of a Muslim religious observance.
Won't it be fun if it emerges that this so-called mosque is nothing more than another "flying imams" stunt, where half a dozen Muslims got together and prayed loudly at an airport, then weren't allowed to fly.  Lots of press, instant martyrdom of a sort (without the virgins), and the possibility of lawsuits and cash.
In any case, we ought to deal with facts.  It's not to be a mosque but an Islamic community center open to everyone, with facilities that make it sound like a YMCA.  The top two floors will be prayer space, but there won't be any minarets or loud calls to prayer echoing through the concrete canyons of lower Manhattan.  It isn't "at" Ground Zero at all; "near" is a better word, given that the site is two and a half blocks, over 700 feet, more than a tenth of a mile from the northeast corner of Ground Zero.  There are Christian churches that are closer, and there are other mosques in the area.
Beyond those facts, there's also the uncomfortable (for some) reality that building the proposed community center is protected by the Constitution and all relevant laws, federal and local.  There's no way to stop it on those grounds, nor should there be.
About 70 percent of the American people are against the project.  Unions have firmly stated that they won't participate in the construction, which in New York means it can't happen.  Political pressure against it is growing, and it won't go away.  Realistically, the project is unlikely to ever happen.  But remember the "flying imams" — maybe the goal of those involved has already been achieved.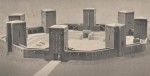 Regardless of all other considerations, this Islamic community center must not be built so close to Ground Zero, particularly with linkage to an anniversary of the attack, for one simple reason:  it's a victory monument.
From time immemorial, victorious forces have constructed monuments at the sites of their victories.  They may be very simple cairns (a pile of stones) or very elaborate, like the huge monument erected by the Germans after the defeat of the Russians at Tannenberg in 1914.  It was dedicated by the Germans on the tenth anniversary of the battle — just like Muslims plan to dedicate their victory monument on the tenth anniversary of 9/11.
Articles written by Tom Carter
Tags: Constitution, Ground Zero, islamic, memorial, monument, mosque, Muslim
Categories: News, Politics | Comments (6) | Home
Leave a Comment
(To avoid spam, comments with three or more links will be held for moderation and approval.)