September 19th, 2010
By Tom Carter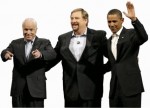 Damon Linker, author of The Religious Test: Why We Must Question the Beliefs of Our Leaders
, has a thought-provoking column in today's Washington Post.  As most people know, a religious test for political office is explicitly unconstitutional (Article VI, paragraph 3).  Nevertheless, Linker maintains that all candidates for high political office should take a religious test.
He cites John F. Kennedy's famous Houston speech in 1960 addressing head-on the question of what influence, if any, his Catholic beliefs would have on his performance as president.  He also notes the 2008 "conversation" on religion among Pastor Rick Warren, Barack Obama, and John McCain.  In Kennedy's case, the speech probably made the difference between winning and losing the election.  In the latter example, it was so watered-down that it did little to expose the depth of belief of either candidate.
We've become more and more attuned to the religious beliefs of candidates, especially candidates for president.  Since Jimmy Carter certainly, presidential candidates have been very forthcoming about their religions, not because they were required to but because they felt obliged to by both the tenets of their faith and political reality.
So why should we want to know (and we do want to know) about a candidates religious beliefs?  There are two good reasons.  First, religion has a significant influence on the thinking and actions of every believer in every aspect of his or her life.  Second, we (the voters) should know what a candidate believes in order to be able to judge his or her fitness for office.
It's not enough just to know that a candidate is a Christian.  Does he or she believe in the literal truth of the Bible, therefore rejecting all scientific evidence underlying evolution, opposing abortion in all cases at any stage of pregnancy, opposing rational scientific research of certain kinds, accepting the predictions of Revelations, and eagerly awaiting the second coming of the Messiah and the Rapture?  If Catholic, does he or she accept that the Pope is infallible on questions of doctrine, thereby being obligated, for example, to not only oppose abortion but to work toward prohibiting it for everyone?  Going further, does the candidate hear voices, see visions, speak in tongues, or dance with snakes?
Moreover, if a candidate is a Mormon, he or she believes that the president of the church is a prophet with whom God communicates directly.  One useful question:  The prophet revealed in 1978 that blacks are equal human beings in the Church's terms.  What if that revelation is reversed (again) and the prophet hears from God that blacks are no longer equal?  What would the candidate do if he or she were president?
If the candidate is an observant Jew, does he or she believe that it's obligatory to observe the Sabbath, to include not working and not using certain modern conveniences on that day?  What if a hostile power launches nuclear weapons at the U.S. on a Saturday — would opening the codes and giving the order for retaliation and defensive measures be defined as work, which is prohibited on the Sabbath?
And what if the candidate is a Muslim?  Questions abound.  What are his or her beliefs about sharia law, dawah, the rights of women, and other tenets of the faith that are in direct conflict with the modern world?  Does he or she believe Israel should be destroyed by direct action, or should we let it happen by withdrawing all aid and support?
These are all valid questions, given the specifics of some religious beliefs and the supposed obligations of all those who claim to be religious.  Linker proposes a test that would have four questions:
How might the doctrines and practices of your religion conflict with the fulfillment of your official duties?
How would you respond if your church issued an edict that clashed with the duties of your office?
What do you believe human beings can know about nature and history?
Do you believe the law should be used to impose and enforce religious views of sexual morality?
Good questions all, and I'd like to know a candidate's answers to them, particularly if he or she aspires to be president.  While we can't impose a test for office because it would be unconstitutional, we can ask the questions.  Perhaps, as Linker suggests, we could apply enough pressure for presidential candidates to agree to one debate just on religion.
And one other useful thing we could learn through an informal test like this or even through a debate on religion — is the candidate an opportunistic hypocrite?  Take for example John Kerry, who claimed to be a Catholic and to believe that life begins at conception, while at the same time declaring himself to be firmly pro-choice.  That marked him as either a hypocrite or a doofus — or in his case, both.
I would like to see a presidential candidate stand up and say, "Look, I've studied religion extensively, and I've come to the same conclusion as Albert Einstein, who said, '…in my opinion the idea of a personal God is a childlike one, but I do not share the crusading spirit of the professional atheist whose fervor is mostly due to a painful act of liberation from the fetters of religious indoctrination received in youth.'  That's good enough for me."
That would be good enough for me, too.  But, of course, in America the candidate could never be elected president or even dog catcher.  Seems there's an informal test for office that requires a belief in spirits, visions, miracles, and magic.
Articles written by Tom Carter
Tags: candidates, Constitution, debates, political office, religion, religious test
Categories: Politics | Comments (13) | Home
Leave a Comment
(To avoid spam, comments with three or more links will be held for moderation and approval.)