September 12th, 2010
By Dan Miller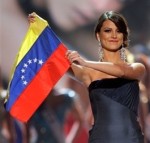 More people now talk about el Presidente Hugo Chávez like a dog.
*  *  *
The recent loud but silent protest by the very beautiful outgoing Miss Universe, a Venezuelan, has not gone unnoticed in a country where the Miss Venezuela and Miss Universe contests are major distractions from daily woes. Miss Venezuelas have won many Miss Universe competitions, most recently in both 2008 and 2009:
In her last catwalk in Vegas … [the outgoing Miss Universe] decided to unfold a Venezuelan flag, not on protocol. But that was not all, and in Venezuela we noticed that her flag had ONLY 7 stars instead of the official 8 (video here). Sure enough there are already chavistas accusing her of all sorts of conspiracy, and the poor woman might want to think about it before coming back to Caracas. Certain things happen in Vegas that cannot stay in Vegas.
Many Venezuelans view the eight-star flag as representing Chávez rather than Venezuela, and don't like it even a little bit.
One of the online English language media outlets I go to daily to take the pulse of Venezuela, Vheadline, styles itself as "100% independent of all political factions in Venezuela." It has however generally been quite supportive of el Presidente Chávez and his merry band. If a recent article there is any guide, the tide may well be turning even among some "elite" Chávez supporters, quite possibly due to the deservedly nasty things being said about Chávez et al domestically and internationally — even by the UN Human Rights Council's investigator on freedom of expression.
Vheadline had offered some pretty mild criticism in the past, but this article by the editor and publisher, "Alice's looking glass is surely in need of urgent repair," should win a Pulitzer prize for unvarnished anger. Published on September 6, it manages to dump a heavy load of fecal matter on the Chávez administration, particularly the (Chavista) United Socialist Party of Venezuela (PSUV) election czar Andres Izarra.
The angry italics and bold face shouting are in the original article:
Wowee! Andres — who used to be a reasonably competent press attache at Venezuela's embassy in Washington D.C. before he was allowed to let power go to his head as Minister of Communications & Information (Minci) and latterly as president of South America's CNN-clone TeleSur — gets himself all worked up because … offenders have concentrated on "giving full coverage to NGOs [Non Governmental Organizations], which have allegedly received money from abroad (namely USA/CIA) to engage in a destabilization plan against Venezuela."

Of course they do … how else is the Venezuelan electorate to get to know about the multitude of things that have gone wrong and continue to go wrong with Chavez' Revolution. Does Chavez really believe there is any other means by which the Venezuelan public is to get to know about malfeasance in public office, widespread corruption and soaring criminality?

Andres, of course, neglects to mention the hundreds of government-funded local newspapers and radio stations that have proliferated in recent years "to spread the good word" about President Hugo Chavez' Bolivarian Revolution. …

To crown it all … Andres has just authored a government-funded book called "The Guardians of pornographic journalism" which he admits was dashed off in four days, presumably as a response to opposition newspapers' "calumny" of publishing a graphic picture from the overflowing Caracas Morgue.
An attack on a close Chávez official is an attack on Chávez personally. Sit, Hugo. Bad dog!
For those who don't pay much attention to Venezuelan goings-on, there is very little actual opposition media in Venezuela; most have been shut down, nationalized, or otherwise effectively muzzled.
Continue reading this article at Pajamas Media »
Articles written by Dan Miller
Tags: criticism, flag, Hugo Chavez, Miss Universe, opposition, protest, Venezuela
Categories: Media, News, Politics | Comments (4) | Home
Leave a Comment
(To avoid spam, comments with three or more links will be held for moderation and approval.)