September 17th, 2010
By Dan Miller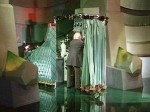 Nobody in the Washington establishment has been able to figure out what just happened.
There was a monster tornado on September 14 in Oz; Dorthy, kicking her heels together wildly, was swept up in it and found herself back in Kansas. The gold yellow brick road was destroyed. In response, the Obama Administration promised to divert $823,000 from a study of African genital washing stimuli to Oz, along with Vice President Biden and the Honorable Charles Rangel to assist in its distribution. To demonstrate the post-partisan nature of the effort, Karl Rove has agreed to go with them to help.
What caused the tornado, besides global warming and George Bush II, the root of all our national disgrace? Nobody in the Washington establishment has been able to figure it out. Karl Rove apparently complained that it was a man woman-caused disaster, and lamented that it was terrible and probably means the end of civilized politics as we have known and loved it. If the stupid tea party fascists want to screw up the Grand Old Party, they wouldn't get any support. Michael Steele, the inappropriately surnamed chairman of the Republican National Committee, welcomed Ms. O'Donnell to the fold and sent an e-mail elaborating on her merits:
The people of Delaware have spoken. And just like voters across America, they are demanding commonsense conservative candidates who will focus on the issues that matter most to them: creating jobs, turning the economy around and protecting our most cherished freedoms.

Christine O'Donnell is exactly that type of candidate and the RNC is proud to support her and our entire slate of Republican candidates in Delaware. But with only 48 days until Election Day, time is running out for Republican grassroots leaders like you to help the RNC provide Christine and all our candidates with the campaign resources and direct financial assistance they need to win.

Please make an urgent contribution of $50, $75 or $100 to RNC Victory today to help fully fund the Victory Centers in Delaware and across the nation that are the key to winning the 39 seats in the House we need to Fire Nancy Pelosi and the ten we must capture in the Senate to Retire Harry Reid.

Your 2010 election contribution today is critical to ensuring Christine O'Donnell and every Republican candidate receives the get-out-the-vote and campaign support they need to fight back and win an historic victory for our Party and our country on November 2nd. Please give as generously as you can.
That's cool. On the various conservative blogs, the reactions generally amounted to a hand gesture hardly amounting to clapping. By the morning of September 16, Ms. O'Donnell had received $750,000, and was shooting for $1,000,000 in post-September 14 contributions from those who might (or might not) otherwise have pledged the funds to the RNC. This was terrible. Ms. O'Donnell's overloaded website crashed, a sure sign that even the internet gods (it was invented by Al Gore, don't ya know) don't like her. How could she possibly hope to win a Senate seat in November? It's all madness! What's a moderate RINO Republican to do? Weeping, wailing, and gnashing of teeth (if any) might help, but more is needed.
In The Hitchhiker's Guide to the Galaxy, when Ford Prefect and Arthur Dent had escaped from the about-to-be-destroyed Earth by hitching a ride on a Volgon spaceship and the ship was about to go into hyperspace drive, Ford warned Arthur that it would be unpleasant: like getting drunk. Arthur questioned Ford why he thought that getting drunk was unpleasant. Ford answered, "Ask a glass of water." The September 14 primaries, particularly in Delaware, were indeed rather like getting drunk for the GOP establishment, and the hangover may be even worse.
Continue reading this article at Pajamas Media »
Articles written by Dan Miller
Tags: Delaware, O'Donnell, Oz, primary, Republican, Rove, satire, Steele, wizard
Categories: Humor, News, Politics | Comments (3) | Home
Leave a Comment
(To avoid spam, comments with three or more links will be held for moderation and approval.)