December 17th, 2010
By Tom Carter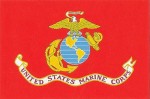 Capt Nathan Cox is a U.S. Marine who has commanded fellow Marines in combat in Iraq and Afghanistan.  In an article in The Washington Post, "Sexuality doesn't matter on the battlefield," Capt Cox states that permitting gay Marines to serve openly will not have a negative impact on combat effectiveness.  In taking this position, he disagrees — respectfully, of course — with Gen James Amos, Commandant of the Marine Corps, who has stated that repealing "Don't Ask, Don't Tell" (DADT) could cost Marines' lives in combat because of "mistakes and inattention or distractions."
Capt Cox obviously speaks with authority on the subject.  But why would he disagree with not only the Commandant but with 58 percent of Marines who were questioned in the recent DOD survey?  A couple of reasons come to mind, one of which Cox mentions.
Gen Amos is an old guy who has fixed ideas on how things ought to be, probably based more on his personal beliefs than anything else.  Unlike some other very senior flag officers who disagree with him, he can't overcome those personal beliefs and fixed opinions of a lifetime.
But what about the 58 percent of Marines who don't like the idea of serving with gay Marines?  As Cox points out, they are also probably speaking mostly from personal beliefs.  Beyond that, 84 percent of Marines who have served with those they knew were gay responded that "there would be no effect or that the effect would be positive."
It's pretty clear from following the debate on repeal of DADT that many who oppose it do so solely on the basis of personal beliefs, often based on religion.  Also, many opponents have never been in the military, or haven't been there recently.  Those who serve now or have served recently enough to know the modern military and still oppose repeal are, again, most likely motivated by personal beliefs rather than an objective assessment.
A few key statements from Capt Cox:
The commandant cites the importance of cohesion within small combat units and warns against its disruption by allowing homosexuals to stop concealing their identities. In my experience, the things that separate Marines in civilian life fade into obscurity on the battlefield. There, only one thing matters: Can you do your job? People care much more about whom you voted for or what city you're from while on the huge airbase with five Burger Kings, or back in the States, than they do when they're walking down a dusty road full of improvised explosive devices in Haditha or Sangin.

In the end, Marines in combat will treat sexual orientation the same way they treat race, religion and one's stance on the likelihood of the Patriots winning another Super Bowl. I do not believe the intense desire we all feel as Marines to accomplish the mission and protect each other will be affected in the slightest by knowing the sexual orientation of the man or woman next to us. …

Is it really likely that lance corporals who know each other better than brothers, and may have saved each other's lives in split-second reactions during deployments, are suddenly going to refuse to serve in the same unit or quit the Corps because they have to share a shower? …

I believe the reluctance many Marines feel about repeal is based on the false stereotype, borne out of ignorance, that homosexuals don't do things like pull other Marines from burning vehicles. The truth is, they do it all the time. We simply don't know it because they can't tell us.

It is time for "don't ask, don't tell" to join our other mistakes in the dog-eared chapters of history textbooks. We all bleed red, we all love our country, we are all Marines. In the end, that's all that matters.
There are Marines, soldiers, sailors, airmen, and coastguardsmen who have served and are serving their country honorably and courageously and who also happen to be gay.  Many of them, over many years.  It cost some of them their lives, and their sacrifice is no less meaningful because of something so trivial as their sexual orientation.
Repealing "Don't Ask, Don't Tell" is the right thing to do, and it's long overdue.
Articles written by Tom Carter
Tags: combat, DADT, don't ask don't tell, effectiveness, gays, Marines, repeal
Categories: Military, Politics | Comments (1) | Home
Leave a Comment
(To avoid spam, comments with three or more links will be held for moderation and approval.)