December 29th, 2010
By Tom Carter
We spent the Christmas weekend in Budapest, one of the most beautiful of European cities.  We stayed in a spa hotel on a large island in the Danube.  The river goes through the middle of the city, dividing the old towns of Buda, in the hills on the right (west) bank, and Pest, in the flat land on left (east) bank.  The hotel has multiple indoor pools of varying temperatures, a large jacuzzi in one pool, sauna, steambath, exercise equipment, and clinics with doctors available.  It's all in one large building complex — go from your room to the elevator, down to the ground floor, and there it all is.  Sounds ritzy and expensive, but it's neither.
Budapest also has a very nice Christmas market in Vorosmarty ter, the square at the foot of Vaci utca, the walking and shopping pedestrian street in Pest a couple of blocks off the river.  Among all the vendor stalls you can get gluhwein (hot, spicy red wine), food of many kinds, and various handicrafts and Christmas items.  On the far side of the square is the large Cafe Gerbeaud, famous for coffee and pastries of all kinds; it also has fantastic ice cream.  There's also a piano in the Gerbeaud that was destined to be on the maiden voyage of the Titanic, but for reasons I've forgotten, it didn't make it onto the ship.
We were in Budapest five days and four nights, and despite the fact that it was cold, windy, and snowing, it was well worth the five-hour drives from Belgrade and back.  Comes the inevitable pictures (click to enlarge):
The inner garden of the hotel, with snow and frozen ponds:
Looking from the hotel across the island to the hills of Buda: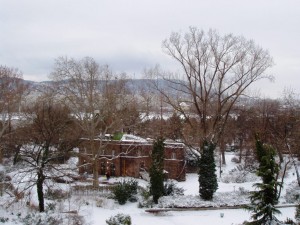 The Christmas market in Vorosmarty ter and Cafe Gerbeaud: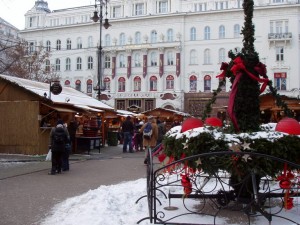 Cooking up the gluhwein — as good as any in Germany or Austria:
Colorful pottery and dolls for sale at the Christmas market:
Christmas munchies: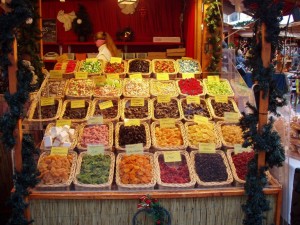 Handicrafts at the Christmas market:
Pork knuckles, anyone?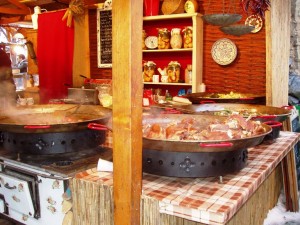 Even the kids seemed well-bundled and warm: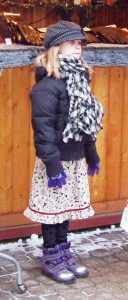 Except for your thoroughly frozen humble correspondent…
Who thawed out later in the warmest pool at the hotel…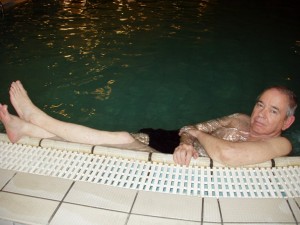 And finally recovered in the steambath!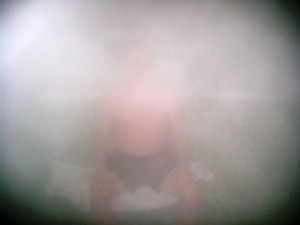 Don't pass up a chance to visit Budapest, not matter what the season.  It's an experience you won't forget!
(Google Earth:  Hotel 47.533902 19.052774; Vorosmarty ter 47.496630 19.050618)
Articles written by Tom Carter
Tags: Budapest, Cafe Gerbeaud, Christmas market, Danube, snow, Vorosmarty ter
Categories: Arts, Life | Comments (8) | Home
Leave a Comment
(To avoid spam, comments with three or more links will be held for moderation and approval.)