December 8th, 2010
By Tom Carter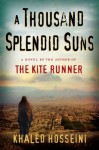 I just read Khaled Hosseini's novel, A Thousand Splendid Suns.  I highly recommend it to anyone who likes good fiction.  It has everything — strong plot, perfect narrative, great style, and rare insight into the human condition.  The subject matter, however, is what makes it an urgently important book.  It chronicles the lives of several people in Afghanistan from 1959 to 2003, and through their eyes we see and feel what average Afghans have experienced over the past few decades.
Khaled Hosseini was born in Kabul in 1965, and in 1980 he and his family were granted refugee status in the U.S. following the Soviet invasion of Afghanistan.  He's an American-educated medical doctor, and he's actively involved in international humanitarian and refugee relief work in the country of his birth.  He knows and understands the people and their suffering, and he writes about them with rare depth and understanding.
The story begins with a young girl, the bastard daughter of a wealthy businessman in the city of Herat.  She lives the first 15 years of her life in a hovel near a village not far from Herat, shunned along with her mother in their conservative Islamic society.  Her father, a decent man but a man of his world, as we all are, loves her and visits her often, but always apart from his family of three wives and 10 other children.  She is never invited into that world, and when she tries, she's rejected.  All she gets is an arranged marriage to a much older man who lives in Kabul, which effectively removes her from her father's world.
The narrative then shifts to another girl, much younger, born to a close and loving family that lives on the same street in Kabul as the girl from Herat and her husband.  None of them are rich, and despite living under a corrupt communist government, they lead reasonably good lives.  Then the Soviets invade, and while there is little or no fighting in Kabul, many sons, husbands, and fathers go to join the mujahideen in the fight against the Soviet Red Army.  Many of them are gone for years, and some never return.  And then comes the Taliban.
The lives of the woman from Herat and the teenaged girl in Kabul become forever entwined.  I'll tell you no more, but I guarantee that you will never forget either of these people.
None of the people in this book are terrorists, nor are they Talibani.  They don't know anyone who is part of al-Aqaeda.  They're just normal people, trying to live their lives in the midst of war and destruction that they had no part in making.  In short, they're like everyone else, like you and me and our families.  They bleed and suffer when injured, and their souls weep forever for lost loved ones.
Read the book, and the next time you hear of innocent Afghans killed by bullets, bombs, and missiles that you paid for, you'll more easily remember that these are human beings suffering pain and the loss of loved ones for no fault of their own and for reasons that they — and we — barely understand.  In reality, it makes no difference who fired the weapon that destroys homes and kills the innocent, and the cause is of little importance to the dead and those who mourn them.
Finally, a warning.  Assuming you have a heart, there are a number of events in the book that will cause your eyes to water, sometimes copiously.  Don't make the mistake of reading it in a coffee shop over a cappuccino.  Trust me on this.
Articles written by Tom Carter
Tags: Afghanistan, Khaled Hosseini, Soviet, Splendid Suns, Taliban, terrorism, war
Categories: Arts, History, Life | Comments (0) | Home
Leave a Comment
(To avoid spam, comments with three or more links will be held for moderation and approval.)