December 1st, 2010
By Tom Carter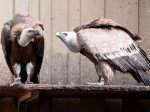 The birds are two Griffon vultures who until just recently lived together in a zoo in Munster, Germany.  Now, in Texas we would call these things "buzzards."  They're big birds with wide wingspans, they circle around all day looking for something dead, then they fly down and eat the corpse.  Buzzards.  Far as I know, no one where I grew up ever thought about the sexual preferences of buzzards, much less made a stink about it.
As reported by numerous media outlets with too much time on their hands, these buzzards, Guido and Detlef, took an unnatural liking to each other.  They set up a nest for themselves, cuddled and hissed together, and ran off others who tried to mess with their nest.  According to AOL News:
The trouble began back in March, when Guido and Detlef, two Griffon vultures, decided to move in together. The lovebirds began crafting a two-man nest out of stray twigs in a communal birdcage….

Both birds are predatory males, but seemed to enjoy one another's company more than that of any female. They spent their days grooming one another with their beaks and fortifying their nest — though other vultures occasionally stole their building materials, as if to spite them.

"They always sat so closely together. They defended their nest from the other vultures," the zoo's curator, Dirk Wewers, told The Daily Telegraph of Australia.

But Wewers explains their preference for one another as second-best. "A suitable female was missing and in such a case vultures look for companionship from the next best thing, even if it is a male," the zookeeper said. "Detlef looked for a bird of the opposite sex but settled with Guido."
So what's a zookeeper to do?  Well, they snatched up Guido and shipped him off to another zoo 400 miles away in the Czech Republic.  There they paired him up with a female buzzard of his own kind, but so far they haven't touched each other, and Detlef isn't doing any better with the ladies.  As Gomer Pyle used to say, "Surprise, surprise, surprise!"
One thing that won't surprise us, given the extent to which Western culture has descended into stupidity, is the reaction in some quarters:
But while separated by bars and great distance, the birds have provoked an outpouring of support among gay humans. There has already been one small protest near the zoo gates by some homosexuals standing beneath a rainbow flag and the German blogosphere is buzzing like a scene out of Alfred Hitchcock's The Birds.

"This is like in the dark middle ages, forcibly making a creature sexually re-orient itself by tearing its partner from its side," wrote one angry gay vulture lover.

"While the Roman-catholic church in the arch-conservative area of Muensterland is jubilant, homosexual federations and animal protection organizations from the whole world over are indignant."
As I've said many times, I have no problem with diverse sexual orientations.  Gay marriage?  Fine, if it makes people happy, and it certainly doesn't hurt me.  Gays in the military?  Also fine because they're citizens and they should be able to serve like any other citizen.  Equal rights in other respects — sure, everyone should have the same rights.
But now we're upset over a couple of male birds who prefer each other to females of their kind?  In the first place, the zoo was justified in separating them.  After all, a major goal in managing these birds is to help them reproduce and restore their population.  And gay activists anthropomorphizing a couple of buzzards as symbols of oppression?  Give me a break.
(H/T to Right Bias for the link to AOL News.)
Articles written by Tom Carter
Tags: birds, buzzard, gay, gay rights, Griffon vulture, homosexual, protests, zoo
Categories: Humor, News, Politics | Comments (2) | Home
Leave a Comment
(To avoid spam, comments with three or more links will be held for moderation and approval.)