February 8th, 2011
By Tom Carter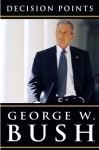 Decision Points is unusual for a book written by a former politician.  It's clear, understandable, well-written, and free of excessive self-promotion.  The book is made more readable by the simple, clear, direct style of his writing.  Some reviewers have attributed that style to his supposed lack of intellect and writing ability, a charge that isn't supported by an open-minded reading of the book.
Decision Points is not an autobiography by any means.  While there are facts about his life, Bush includes them to provide context for discussion and explanation of decisions he made on key issues during his presidency.
As might be expected from a human being telling his side of a story, he tends to emphasize his version of events.  However, to a surprising degree he's willing to admit when he was wrong, and in every case he explained what he was thinking and why he made each decision.
Those who read Decision Points with an open mind will learn in some cases that what they previously considered to be facts were wrong, regardless of whether they're predisposed to condemn or support Bush.  That's because the media was so biased against Bush that much of their reporting on him distorted the truth.
On issues from his stem cell research decision early in his presidency to the unfolding economic collapse he struggled with during his last year, he provides facts and explanations of his decisions that pass both the "ring of truth" test and the harsh light of serious fact-checking.
The cliffhanger election of 2000, which didn't finally end until the Supreme Court ruled by votes of 7-2 on one issue and 5-4 on another that the recounts in Florida had to end.  Despite not having the highest number of popular votes, Bush won in Florida and became the 43rd president.  The election intensified liberal and media hatred of Bush throughout most of his presidency.  Most Democrats ignore or don't know the facts, the media doesn't dwell on them, and neither did Bush in the book.  The Gore campaign first took the issue to court, which culminated in the Supreme Court decision.  The Gore campaign was poorly managed, and Gore himself was a wooden and uninspiring candidate.  If Gore had managed to win his own state, Tennessee, he would have won without Florida.  And finally, most important, if Ralph Nader had not run in Florida and captured over 97,000 votes, Gore would have won easily.  Despite all that, it finally emerged, even if the court decision had gone against Bush and Gore had gotten all the recounts he wanted, it's virtually certain that Bush still would have won.
On the Katrina disaster, he admits that FEMA fell short, although he didn't dwell much on specifics.  What he does make clear is that the primary failures were the fault of the mayor of New Orleans and the governor of Louisiana.  By law, theirs is the first responsibility, with the federal government providing support.  Their planning, to the extent it existed, was inadequate, and their decision making just before and during the disaster was muddled and incompetent.  This included the governor's refusal to permit Bush to send in Regular Army troops and to assume control of the state National Guard for days after it was obviously necessary.  This aspect of the story was poorly told by the media, but the facts are readily available from multiple sources.
In one telling example, Bush recounts the reasoning behind his decision to fly over the disaster area in Air Force One enroute back to Washington instead of landing.  The media and Democrats brutally criticized him for this, spinning it as an indication of his detachment, lack of concern, and poor leadership.  What happened, in fact, was the governors of both Louisiana and Mississippi had recommended that he not land because his arrival and presence would detract seriously from rescue efforts; it was just too early.  He now considers that to have been a mistake, not because his presence that early would have saved any lives but because of the public relations implications.  He's probably wrong; if he had landed in Air Force One somewhere like Baton Rouge, pulling security forces and decision makers away from the desperate effort to save people, he would have been just as viciously criticized by the usual suspects for grandstanding and seeking political gain.
Bush's account of his thinking and his decision to go to war in Iraq are fascinating.  Whether one believes that it was right or wrong to take down the Saddam Hussein regime with military force, the Iraq war spawned the most intense hatred and twisting of facts of the Bush presidency.  He admits that he made mistakes in not anticipating the level of violence that would prevail in Iraq after Saddam was gone and in not sending in enough troops to deal with the violence.  He corrected that error with the successful surge in troop strength, despite predictions by Democrats even before it started that it would fail.
Bush addresses one of the most scurrilous charges made against him by Democrats and the media — that he lied about WMD in order to justify the war in Iraq.  He was in all likelihood wrong, but he didn't lie about it by any means.  His certainty that WMD were in Iraq and would be used, possibly by terrorists against the U.S., were shared not only by the U.S. intelligence community but by the intelligence services of all major nations.  Not only that, most Democrats believed it, too, including the most significant Democratic leaders.  These facts are all on record and easily accessible, but that wasn't important to Bush's detractors.  Their mission was to drag Bush down, and they either didn't care about facts or were ignorant of them.  That's still the case.
It's not possible to discuss every important aspect of Decision Points in a short review.  Suffice to say that everyone who cares about the history of the Bush presidency will benefit from reading it.  Those who support Bush no matter what, as well as those who oppose him no matter what, can learn something if they're willing to do so.
As President Bush observes at the end of Decision Points
,
Decades from now, I hope people will view me as a president who recognized the central challenge of our time and kept my vow to keep the country safe; who pursued my convictions without wavering but changed course when necessary; who trusted individuals to make choices in their lives; and who used America's influence to advance freedom.  And I hope they will conclude that I upheld the honor and dignity of the office I was so privileged to hold.

Whatever the verdict on my presidency, I'm comfortable with the fact that I won't be around to hear it.  That's a decision point only history will reach.
Articles written by Tom Carter
Tags: 2000, Bush, Decision Points, Iraq, Katrina, recession, stem cells, terrorism
Categories: History, Politics | Comments (2) | Home
Leave a Comment
(To avoid spam, comments with three or more links will be held for moderation and approval.)