March 19th, 2011
By Tom Carter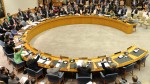 The die is cast.  On March 17, the UN Security Council, by a vote of 10 in favor and 5 abstaining, imposed a no-fly zone in Libyan airspace and authorized member states "…to take all necessary measures to protect civilians under threat of attack in the country…."  It will most likely also include a no-drive zone to protect Libyan opponents of the regime from ground attacks.
This isn't going to end well.  The world has been very slow to respond to events in Libya and in the region, and the U.S. has failed to lead.  Even if it's not too late and the ever-weakening opposition in Libya can overthrow Qadhafi, the result could be a regime that's worse — perhaps much worse — from the standpoint of Western interests.
After dithering for weeks, President Obama got on board once other countries, notably France and the UK, had taken the lead and the UN had authorized action.  However, he made one thing clear, that "Not one American boot could touch one grain of Libyan sand."  That's the same thing President Clinton did at the beginning of the NATO (mostly U.S.) bombing of Yugoslavia over the Kosovo issue — ruled out the use of ground forces from day one.  That's certainly sure to ease the mind of any adversary.
There hasn't been any serious preparation on the part of the U.S.  There's an amphibious ready group in the Med right now, about to be replaced by a similar force.  That force could land Marines, but that's already been ruled out by the President.  There is no aircraft carrier whose planes could fly attack missions over Libya.  To the extent the U.S. directly participates in the immediate future, it would be with cruise missiles or Air Force attack aircraft from bases in Europe.
According to news reports, the President of France has confirmed that French fighters are in already action over Libyan airspace.  CNN is reporting now that airstrikes, at this point, will be carried out by France, the UK, and Canada.  By all indications, the U.S. is going to take a mostly supporting role but will almost certainly employ cruise missiles, if not fighters.
Some see a no-fly, no-drive zone over Libya as the right thing to do, even though it's being done very late.  But will it really work?  Both the Secretary of Defense and the Chairman of the Joint Chiefs of Staff have have expressed doubt and reluctance.  When asked during a Senate hearing whether a no-fly zone would work, the Chief of Staff of the Air Force said, "A no-fly zone, sir, would not be sufficient."  No matter whose weapons are employed, a direct attack on Libya is required.  This includes early attacks on air defense systems, shooting down Libyan aircraft, and attacking military equipment on the ground.
Can the Libyan opposition succeed in overthrowing the Qadhafi regime with the protection that comes from no-fly and no-drive zones?  Maybe, but there's nothing certain about it.  This could turn into a long, drawn-out stalemate like the 12-year no-fly zone in Iraq.  We all know what was eventually required to get rid of the Saddam Hussein regime, and no rational person wants to go through that again.
If all this works and Qadhafi is thrown out or killed, what happens next in Libya may not be a major improvement.  Anyone who harbors the illusion that Libya will become a peaceful, freedom-loving, democratic state will be proven wrong.  Where in the Arab Muslim world has that ever happened?  History, reality, and common sense all combine to make it abundantly clear that the successor regime in Libya, if there is to be one, could be just another Islamic, terror-supporting thorn in the side of the rest of the world.
Is that worth what's about to happen?  As far as the Muslim world is concerned, this is just another example of the West's continuing war on Islam, even though the Great Satan is no longer the leader.  Never mind that the Arab League supports it; that's purely self-serving, and the leaders of the states it represents do not represent their people.  Things are going to be broken, and people are going to be killed.  That's what the military does, and rightly so.  But non-combatant civilians are going to be killed, homes are going to be destroyed, and even more refugees are going to be created.  Media in the U.S., Europe, and outlets like Al Jazeera will gleefully show the images, and more terrorism will result.
At some point it has to be understood that national sovereignty has meaning.  There is no "humanitarian exception."  The West may not like how a country treats its people, but it's not up to us to bomb countries until they start doing things in a way that meets our approval.  When things that happen constitute a direct threat to a nation's interests, then military action can be appropriate.  Otherwise, we should stay out of domestic conflicts in other countries.
Maybe it's a smart move on the part of President Obama to refuse to lead the international military effort against Libya.  I'd like to believe that, but the truth is it's the result of indecision, craven fear of offending the Muslim world, and a firm lack of belief that the U.S. has any business leading the world in any respect.  It would have been better to have acted quickly, stating up-front that the U.S. would not participate in military action, or, conversely, leading the effort to try to force a desired outcome of the conflict in Libya, regardless of the limited chances of success.
Articles written by Tom Carter
Tags: Arab, Canada, France, Libya, Muslim, no-drive, no-fly, U.S., UK, UN
Categories: Military, News, Politics | Comments (7) | Home
Leave a Comment
(To avoid spam, comments with three or more links will be held for moderation and approval.)