March 2nd, 2011
By Dan Miller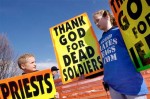 I have done no more than to skim the Court's decision, Justice Breyer's concurrence and Justice Alito's dissent in today's Westboro Baptist Church decision. However, a few points I have not seen noted elsewhere may be worth making.
Justice Roberts, for the majority, noted that "Our holding today is narrow. We are required in First Amendment cases to carefully review the record, and the reach of our opinion here is limited by the particular facts before us." That is nearly always the case, so much so that the Court does not generally bother to mention it in its decisions unless it intends the comment to have significant effect beyond a yawn
In his concurrence, Justice Breyer expanded on this cautionary note:
I agree with the Court and join its opinion. That opinion restricts its analysis here to the matter raised in the petition for certiorari, namely, Westboro's picketing activity.  The opinion does not examine in depth the effect of television broadcasting. Nor does it say anything about Internet postings. The Court holds that the First Amendment protects the picketing that occurred here, primarily because the picketing addressed matters of "public concern."

While I agree with the Court's conclusion that the picketing addressed matters of public concern, I do not believe that our First Amendment analysis can stop at that point. . . . [S]uppose that A were physically to assault B, knowing that the assault (being newsworthy) would provide A with an opportunity to transmit to the public his views on a matter of public concern. The constitutionally protected nature of the end would not shield A's use of unlawful, unprotected means.  And in some circumstances the use of certain words as means would be similarly unprotected (emphasis added).
Continue reading this article at The PJ Tatler »
Articles written by Dan Miller
Tags: 1st Amendment, decision, Supreme Court, Westboro Baptist Church
Categories: Law, News, Politics | Comments (3) | Home
Leave a Comment
(To avoid spam, comments with three or more links will be held for moderation and approval.)