July 2nd, 2011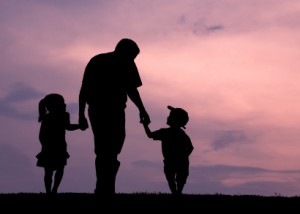 Consider the toddler. Having made it through the year of infancy, a year of almost complete helplessness, young children are entering a radical new phase of life. They are learning to stand on their own (a nice metaphor, don't you think?) and are on their way to taking their first steps. Soon they will be feeding themselves. Toddlers will be exploring speech and making themselves understood. Two years from now, when this period of learning is complete, children will understand that they are separate beings from their parents. They will be able to say, "Yes! No! Thank you,"  and even "I love you," and know what they mean. Toddlerhood is that magical time when children learn the beginnings of personhood.
Now consider the preschooler. In many ways, they appear to be little adults, having mastered many of the basics of personhood. They can talk (and be mostly understood) and possess a growing vocabulary, dress and feed themselves, walk, run, climb, and jump. Yet, preschoolers are still very early in their journey toward personhood in which their personalities will become more defined and the values, attitudes, and beliefs about themselves and the world will form and become ingrained.
Finally, consider the elementary schooler entering that big and exciting world beyond their home. A world in which they are not fully prepared to navigate, yet are nonetheless thrust out the front door into an intense maelstrom of messages, both positive and negative, for which they are still largely ill prepared to assimilate in any kind of reasoned fashion. Over the next few years, their personalities and their self-perceptions and those of the world will become more established and will guide the direction that their lives will take.
Toddlerhood, preschoolhood, and the early elementary school years are also the time when you have your best possible chance of having your say about what kind of person you'd like to have your children become. Perhaps eight years max. After that, your influence diminishes slowly, but inexorably.
I'm a "Parenting Expert"
I have a Ph.D. in Psychology, am the author of two previous parenting books, have a consulting practice that involves working with young people and their parents, and regularly speak to gatherings of parents, educators, and students around the world. For many years I've been a "parenting expert." But here's the hitch: I wrote my first two parenting books and became a so-called parenting expert before I had children.
In the instant when my first daughter, Catie, was born, I went from being an authority on parenting to just another baffled parent trying to muddle through raising my children. In 15 years I may write another parenting book titled, I'm Sorry, They Seemed Like Good Ideas at the Time.
That said, my professional experience has demonstrated that my ideas about raising children do stand up to the test of real-life parenting. Now that I am the father of two young girls, I have first-hand experience to support the value of my ideas about raising children. Plus, being a parent has helped me to better understand what actually works and what doesn't in the real world of raising children.
How Do Children Become Who They Become?
The key question that intrigues me as both a parent and a so-called parenting expert is: How do children become who they become? Certainly, genetics play a formative role; intelligence, physical attributes, and temperament all have been found to have a strong hereditary component. Evidence is equally strong that the environment also contributes significantly. It is no longer a dispute between nature vs. nurture, but rather a collaboration of sorts involving nature via nurture; how children are raised and the environment in which they are immersed influence what genetic predispositions emerge as they develop.
So what aspects of the environment impact children's development? Some have argued that parents have much less influence than they like to think; peers and popular culture affect children more. However, I believe that during these early years, you have a window of opportunity before they become integrated into the larger social world in which you have a greater impact on your children than those outside forces.
Consider this. You are the most present people in your children's early life, and exert the most control over almost everything your children experience. Whether it is what they eat, when they sleep, their daily activities, or with whom they interact, you are in charge. During this period your children are absolutely ravenous for every morsel of information they can ingest and you provide your children with most of their developmental "nourishment" in the form of language, emotions, behavior, and interactions. And, importantly, you create the physical and social environment that plays an increasingly important role in your children's later development, including your home, the neighborhood in which they live, the childcare or pre-school they attend, through play dates, the peers with whom they interact, and the types and frequency of exposure to popular culture. In other words, during those early years, you have the opportunity to control the message. Other messages, many not as nourishing for the development of young children, will come soon enough.
They Get the Message
Perhaps the most powerful lesson I have learned as a father is that: children become the messages they get the most. Given the inherent power that you have in shaping your children through your messages, the core question you should ask yourself is, "How can I be sure I'm sending the healthiest messages to my children?" The answer to that question has two parts. First, you need to be clear about what messages you want communicate to your children. And, second, you must develop your own skills in conveying those messages.
These messages that come early in your children's lives are particularly significant because, before long, your children will be getting messages from many much less controllable or benign sources. Peers and popular culture will inexorably bring children all kinds of information and attitudes, good, bad and downright dangerous. All you can do is attempt to ingrain positive messages early in your children's lives as a form of immunization against the onslaught of harmful messages they are certain to receive as they get older.
Gift of Messages
What values and beliefs do you want to install in your children? What kind of people do your want your children to become? How can you prepare them for a future that is largely unforeseeable? These are fundamental questions that all parents ask. The answers that you come up will determine how you raise your children.
From my work I know that the vast majority of parents come up with similar answers. We want our children to thrive, to be kind and generous people, to find success, happiness, and meaning in their lives. We want our children to feel good about who they are, to pursue meaningful goals and do well in school and career. We want them to be thoughtful, respectful, and responsible. We want our children to develop healthy relationships, feel connected with the world in which they live, and find love. Ultimately, we all want our children to become decent human beings. And the way to realize these hopes for our children is send them the right messages. Your hopes and your messages are the gifts that you can give your children every day of their lives.
Note: This post is excerpted from my latest parenting book, Your Children are Listening: Nine Messages They Need to Hear From You (The Experiment Publishing, 2012).
(This article was also posted at Dr. Jim Taylor's Blog.)
(Visit Dr. Jim Taylor's YouTube channel to see TV interviews and Prime topic discussions.)
Articles written by Dr. Jim Taylor
Tags: development, growth, learning, messages, parenting
Categories: Education, Life, Science | Comments (1) | Home
Leave a Comment
(To avoid spam, comments with three or more links will be held for moderation and approval.)