September 16th, 2011
By Seth Forman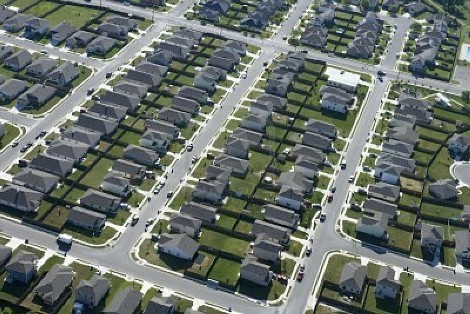 The American Dream of the past eighty years has been defined as single-family home ownership. Suburbs and single-family home ownership appear to fulfill very powerful aspirations for large numbers of people. "The suburban dream house is the idealization of every immigrant's Dream — the vassal's dream of his own castle," wrote Italian-born immigrant Edgardo Contini. "Europeans who come here are delighted by our suburbs. Not to live in an apartment! It is a universal aspiration to own your own home."
Today, those aspirations have become extremely difficult for vast numbers of young people and newcomers to fulfill. The news from the housing market is bad.  Home prices today are lower in most of the country than they were in the dismal month of April 2009; we are now in the second dip of the double dip housing downturn. The financial crisis that started in 2008 has made home mortgages extremely difficult to obtain.
Since the financial crisis began, over one million consumer mortgages have gone into foreclosure. Sales of bank-owned properties are now 34.5 percent of the housing market; homes in foreclosure waiting for resale now account for a three years-supply on the sluggish housing market. At the peak of the boom, total net home equity in the US (the value of owner occupied homes minus the remaining mortgage debt) stood at 13 trillion.  Today it is down to $6.5 trillion. America's home equity losses are greater than the GDP of Japan.
This is not the first time the Dream has died, or at least been radically transformed. Historian Walter Russell Mead has explained that the ideal of the family farm was once even more deeply rooted in American life than the ideal of the owner-occupied home.  In the 18th and 19th centuries, the average American family owned and farmed a small piece of land.  Cheap land on the frontier made the original American dream accessible to just about anybody.
The old Dream died from a combination of reasons, most having to do with increases in agricultural efficiency and industrialization.  In 1900 41 percent of Americans worked on farms.  Today fewer than 2 percent do.
This first Dream ("Dream 1.0") was replaced by the "Dream" of big city life, availing oneself of the opportunities where the "future once happened." For millions of Americans, from the late 1800s through the mid-1900s, the Dream was to move out of small town America to the big city. Similarly, for tens of millions of immigrants, the goal was simply moving to America, which most often meant moving to large urban centers. But "Dream 2.0" crumbled with the urban crisis of the1960s: racial strife, rising crime rates, bad schools, rising welfare rolls.
Dream 2.0 was replaced by the crown jewel of American prosperity: suburban home ownership ("Dream 3.0"), which — despite what the pundits say — won't die as inexorably as the other two. For one thing, this Dream is more universal than the family farm or the big city ever were. Roughly 69 percent of Americans currently own their own home. Polls show suburban communities are where most people prefer to live, by wide margins. Throughout the country suburbs, where home ownership is most prominent, are growing. In the New York metro area, "exurban" suburban counties like Dutchess, Rockland, and Orange are growing faster than New York City and high density "inner ring" suburban counties like Nassau and Westchester. Wendell Cox has shown that 1.8 million folks who were 25-34 in 2000 moved to suburbs, while cities lost 1.3 million members of this same age group. Research conducted by Frank N. Magid Associates shows that 43 percent of Millennials describe suburbs as their "ideal place to live," compared to just 31 percent of older generations. Blacks are becoming more suburban too, leaving big cities like Chicago, Boston, and New York in droves for suburban counties in the south and southwest.
The gravy train of government-backed, debt-supported consumerism may have to change. We may have to alter our mindset, to live within our means, to refocus on the non-material things in life. Home ownership might change: people will rent for longer periods, more households will include grandparents or aunts and uncles, or accessory apartments, and more people will combine work space with living space. But in terms of the way we organize our physical space, there is no practical alternative to the suburbs. Certainly family farms and big cities have not proven viable for the vast majority of Americans. The American Dream 3.0 is here to stay.
(This article was also published at Examiner.com, New York, NY.)
Articles written by Seth Forman
Tags: city, foreclosure, housing, mortgage, ownership, suburban, suburbs
Categories: Economics, History, Politics | Comments (3) | Home
Leave a Comment
(To avoid spam, comments with three or more links will be held for moderation and approval.)