January 4th, 2012
By Tom Carter
I just got back from one of my frequent trips to Europe.  I've checked out ways to get there other than flying on an airline.
I could book a berth on a cargo ship, a fairly inexpensive way to cross the ocean.  Then, from whatever port I end up at in Europe, I could take a train to where I'm going, or maybe rent a car.  The round trip travel would take about a month, which isn't a very efficient way to travel.  Or I could charter a private jet — yeah, right.  The last alternative is swimming, but I'd drown about 100 meters off the beach.
So flying on a commercial airline, economy class, is the only way I can do it, unless I rob a bank for the money to pay for business or first class.  The agony and the ecstasy?  There isn't any ecstasy, other than getting off the last plane.  (Assuming that you don't engage in any mid-ocean nastiness beneath your skimpy airline blanket.)  Agonies, however, abound.
At the top of everyone's list of air travel agonies is security checks.  In the last two weeks I went through about seven of them, I think, with varying degrees of frustration and irritation.  Most of this is because Muslim terrorists want to blow up airplanes, which makes it essential that gray-haired grannies from Omaha and retired U.S. Army officers get close attention.  I have to note that TSA folks in the U.S. seem to be making a big effort to be friendly and smiling, which only slightly minimizes the pointlessness of much of what they do.  The security people in Europe are almost as thorough, with fewer smiles.  I got my first full-body scan on this trip.  Not a big deal.  I stepped into a round glass both, and a piece of glass or whatever zip-zipped in front of me, and that was it.  Didn't hurt, and the sight of my virtual naked body probably made the person sitting in a back room somewhere very happy — the highlight of her (or his?) day, I like to imagine.
I normally fly with Lufthansa, which is a bit less of an agony that flying on U.S. airlines.  But every flight is crowded to the max, and seat sizes and knee space continue to decline.  On one flight, the guy in front of me reclined his seat all the way, putting it about eight inches from my nose.  I gave the seat a good jostle in return, but he didn't seem to notice, and I didn't feel any better.
I normally leave from Houston and change planes in Frankfurt, but I've also done it in Munich, Washington, Chicago, Atlanta, and (gasp!) Detroit.  They all suck, some more than others.  Frankfurt, the airport I see the most of, has gotten worse over the years, like a lot of other things.  My time there between planes has varied from less than an hour (panic!) to 12 hours (boredom!).  The Frankfurt airport normally contains approximately half the population of the Indian subcontinent, many of them sleeping in chairs or on the floor.  They look like the same people every time I'm there, and I've often wondered whether some of them have taken up full-time residence.  Probably better than living wherever they came from.
The final agony, and for me maybe the worst, is the no-smoking rules in airports and on airplanes.  Fine, go ahead — yell, denigrate, degrade, humiliate all you want to, but I'm still a smoker.  I can see not permitting smoking on airplanes; it fouls up everyone's air.  But no smoking areas throughout a huge airport?  In the U.S., that's generally the case, although a few airports have maybe one smoking room at the far end of a concourse — poorly ventilated and designed to be uncomfortable.  That's the anti-smoking Nazis at their best.  But the airports I've been at in Europe usually have reasonable smoking areas.  Not that the anti-smoking forces are that much less dictatorial and self-righteous; they just do it more logically.
In Frankfurt, there are numerous smoking booths, sponsored and presumably paid for by tobacco companies.  (Go ahead, rant and rage some more.  Who cares?)  They're clean, well designed, comfortable, and externally ventilated.  You can stand right next to one and never smell smoke.  Of course, that wouldn't matter to the average American anti-smoking Nazi; the mere sight of someone lighting up a 100 meters away is enough to give them the vapors.
Here are two of the smoking zones in the Frankfurt airport:
Here's a large one in the Munich airport, with nice furniture and and even a fireplace: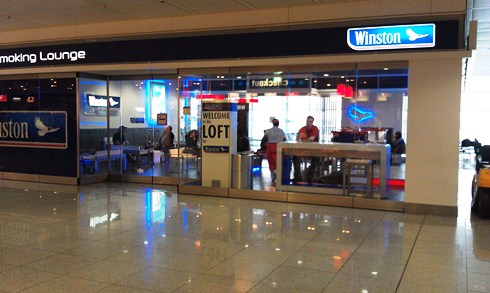 So aside from the pleasure of grabbing a smoke between planes in Europe — not exactly an ecstasy — the only thing to recommend air travel is the pleasant visit between agonies.  Didn't used to be that way, before airline deregulation.  Back then, prices were all pretty much the same, and airlines competed on the basis of quality service.  Travelers were different too; people dressed reasonably well and took a bath sometime within the several days before takeoff.  And, of course, Muslims hadn't started bombing airplanes, so there was no need to be x-rayed or groped before flights.
Articles written by Tom Carter
Tags: airlines, airports, Europe, security, smoking, terrorists, travel, travelers
Categories: Life | Comments (4) | Home
Leave a Comment
(To avoid spam, comments with three or more links will be held for moderation and approval.)