February 8th, 2012
By Tom Carter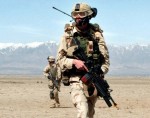 If you haven't seen it yet, you should read "Truth, lies and Afghanistan" by Lieutenant Colonel Daniel L. Davis, published by Armed Forces Journal.  As LTC Davis puts it, "The American people deserve better than what they've gotten from their senior uniformed leaders over the last number of years. Simply telling the truth would be a good start."
I've been watching the progress of the war in Afghanistan for the past few years with growing dismay.  I've read quite a bit about the country and its history, and I've found nothing whatsoever to make me think this latest effort to subdue that primitive land of tribes and clans has any chance of success.  What Alexander the Great, the British, the Soviets, and others have all failed to do is likely to be repeated by America and the few reluctant allies we have there with us.
In LTC Davis' words:
How many more men must die in support of a mission that is not succeeding and behind an array of more than seven years of optimistic statements by U.S. senior leaders in Afghanistan? No one expects our leaders to always have a successful plan. But we do expect — and the men who do the living, fighting and dying deserve — to have our leaders tell us the truth about what's going on. …

When it comes to deciding what matters are worth plunging our nation into war and which are not, our senior leaders owe it to the nation and to the uniformed members to be candid — graphically, if necessary — in telling them what's at stake and how expensive potential success is likely to be. U.S. citizens and their elected representatives can decide if the risk to blood and treasure is worth it.
Apparently there's a lengthy classified report written for the Army by LTC Davis, in addition to a more detailed unclassified report that may be published at his blog and elsewhere.
Of course, I can't attest to the accuracy of his observations and conclusions.  However, everything he says has the solid ring of truth, based on everything I know about the war in Afghanistan, the history of ill-fated ventures like Vietnam, and, more broadly, the Army itself.
It's a tragedy that we've spent so much time, money, and blood in pursuit of an impossible goal, however worthy it may seem to be.  But the hard truth is that the longer we stay involved the more our losses will mount, and the chances of meaningful success will always be virtually nil.
Articles written by Tom Carter
Tags: Afghanistan, Davis, failure, lies, report, success, truth
Categories: Military, News, Politics | Comments (2) | Home
Leave a Comment
(To avoid spam, comments with three or more links will be held for moderation and approval.)