April 13th, 2009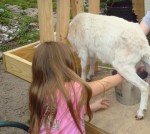 On Saturday my grandma and grandpa took my sister, Ashley, and me to Brian Bagent's house. Ashley and I were waiting the past week to go to his house. We know Brian because he and my grandma work together at the hospital.
Like he described in the article posted below, Brian has lots of animals. He has cats, dogs, rabbits, chickens, pigs, and goats. He has a little farm in the big city!
First he showed us his rabbits. I got to hold the big white one. It was so cute and fluffy.
His pig had four piglets but three died. We saw the piglet. It was so cute and so small. It was the size of our little kittens. The piglet was being fed with an animal newborn bottle with goat's milk. I found out that the little pig loves the goat's milk and is growing really fast.
Then Brian let out all of the baby ducks into the pond he made. It was so cool to see them swimming in the pond. Ashley kept saying, "Awww, they're so cute!"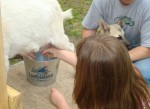 After that, Brian and his three sons chased down the first goat, Priscilla, to show us how to milk her. She is a sweet, pretty, white goat. Brian taught us how to milk a goat and it was really fun. He also taught us how to shake the utter to get more milk. This was our first time milking a goat. My grandpa started helping us milk the goat! Ashley missed the bucket when she milked and sprayed me with milk!
Brian let us milk two more goats and while we milked them, Brian's son played a song for us on the keyboard. He's so funny! There's nothing more fun than milking goats with music! I'd have to say Priscilla was the easiest for me to milk. Ashley says the third one was the easiest for her.
After we finished milking them, we got to taste goat's milk! It tasted so good. It kind of tasted like soy milk. Brian gave us a pint of milk to take home. Brian said that the milk was Pasteurized by boiling it at 180 degrees for thirty minutes to make it safer to drink.
I'm so glad Brian let us come and taught us how to milk goats. This is definitely an experience to remember! Thanks, Brian!
Articles written by Amber
Tags: animals, goat, milking
Categories: Life, News | Comments (8) | Home
Leave a Comment
(To avoid spam, comments with three or more links will be held for moderation and approval.)