July 16th, 2010
By Dan Miller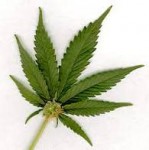 If the federal government does not preempt the Golden State's attempt to legalize marijuana, it would make their attack on Arizona's immigration law look like a matter of political whimsy.
*  *  *

California Proposition 19 would make the sale and use of marijuana for many purposes, beyond medical use, lawful and taxable in California:
Proposition 19, also known as the Regulate, Control and Tax Cannabis Act of 2010, is a California ballot proposition which will be on the November 2, 2010, California statewide ballot. It legalizes various marijuana-related activities, allows local governments to regulate these activities, permits local governments to impose and collect marijuana-related fees and taxes, and authorizes various criminal and civil penalties. In March 2010 it qualified to be on the November statewide ballot.
Under the proposition:
Persons over the age of 21 may possess up to one ounce of marijuana for personal consumption.

May use marijuana in a non-public place such as a residence or a public establishment licensed for on site marijuana consumption.

May grow marijuana at a private residence in a space of up to 25 square feet for personal use.
The official California report on Proposition 19 observes:
Marijuana is illegal under federal laws. If marijuana becomes legal in California under state law, it will still be federally illegal. The U.S. Supreme [Court] has previously ruled that federal agents can arrest medical marijuana users and growers even though Proposition 215 [enacted in 1996] makes that behavior legal in California.
Continue reading this article at Pajamas Media »
Articles written by Dan Miller
Tags: Arizona, California, federal preemption, immigration, marijuana, Proposition 19
Categories: Law, News, Politics | Comments (4) | Home
Leave a Comment
(To avoid spam, comments with three or more links will be held for moderation and approval.)