November 28th, 2008
A cat lives with me. Or, more accurately, he permits me to live with him. His name is Cat. That's all, just Cat. Of course, there are other names I use for him, depending on the circumstances, but I won't include them here.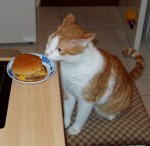 I think Cat is a Republican. All the signs are there. He wants his food, and he wants it now; he wants your food, too, if he can get it. And he doesn't care whether anyone else eats or not. If he could get his claws on a bird or a mouse, he'd eat it, too. And he wouldn't care about his victim's underprivileged background, early childhood abuse, or lack of health insurance.
He may be a Democrat, though. Certain parts of his private anatomy were removed by the vet, and that should qualify him. He also likes Martin Sheen and the Dixie Chicks. And for all I know, even though he isn't a U.S. citizen, ACORN may have registered him to vote in several states.
But he could also be an Independent. Hard to tell with cats.
One nice thing about Cat is he's exceptionally quiet. None of that loud, raucous meowing when he's hungry. He just gets as close to my face as he can and stares me in the eye until he gets fed. About the only noise he ever makes is a weird, low-volume kind of "mimi" once in a while, especially when he's chasing a flying bug or stalking a pigeon on the windowsill. But the minute he's in the car in his travel box, he lets loose with high-volume yowling that doesn't stop until the car stops. I don't take him on car trips.
I was holding him against my chest one day when he was only a few months old, still a kitten. He somehow got his head inside my robe, found something he thought was promising, and started trying to nurse. Talk about a weird feeling! Not being a pervert, I made him stop. Almost immediately. After hearing this story, one of my friends declared that Cat obviously thinks I'm his mama. I'm pretty sure he knows who his real mama is, but I've been stuck with the title of "Cat's mama" ever since.
He's frequently a pain, but he seems to like me a lot. That counts. And in the dark of night, when everything is quiet, there's another heartbeat in the house.
Being Cat's mama ain't all bad.
Articles written by Tom Carter
Tags: cat, friend
Categories: Life | Comments (4) | Home
Leave a Comment
(To avoid spam, comments with three or more links will be held for moderation and approval.)