September 2nd, 2009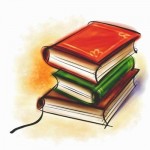 School started August 24th, and I'm in 7th grade! I was excited to go back to school to see my friends, but I knew I was going to miss the Summer.
The first day of school I was so happy to see my friends and my teachers were really nice.
My first period is English. My teacher's name is Mrs. Killgore. She's super funny!
My 2nd period is Texas History. My teacher is Coach Tooley, and I had him last year, too. Social Studies has always been my least favorite class, but Coach Tooley makes it fun. Its really funny because Coach Tooley thinks he's so cool.
My 3rd period is P.E. It's another one of my least favorites.
My 4th period is Science with Mrs. Stewart. She's nice but a little strict. Science is my favorite subject. After 4th period, we go to lunch.
Then, fifth period is Art with Mrs. Stewart. (There are two Mrs. Stewarts in our school. They are not related.) I love Art! It's so much fun! Mrs. Stewart is strict but fun.
After that is 6th period, which is reading. Reading is my favorite thing to do. My Reading teacher is Mrs. Kirchner. She's my favorite teacher because she's really nice, and when we learn something she tells us how we are going to use it later on in life.
Last period is Advanced Math, or Pre Algebra. My teacher's name is Mrs. Manuel. Right now, we are learning positives and negatives. First it was really confusing, but now it's really fun.
I like all of my teachers and seeing my friends every day is great!
I'm so tired and can't wait to sleep-in this weekend!
Articles written by Amber
Tags: school, teachers
Categories: Arts, Life | Comments (6) | Home
Leave a Comment
(To avoid spam, comments with three or more links will be held for moderation and approval.)