March 16th, 2012
By Dan Miller
We didn't have the TSA, delicious airline meals or pleasant flight attendants.  It's all so much better now. Don't believe it?  Just watch these shocking videos.
Don't laugh. That film was made only eight years before I was born so it's not ancient history. It's not that long ago, I tell ya.
Things have changed rapidly ever since, sometimes for the better and sometimes not. These aircraft came just a few years later.
Eventually, the Boeing 747 came along.
My wife, Jeanie, was a Pan Am flight attendant back then on the 747s. She has many stories to tell about her 'round the world flights (there were two daily, one in each direction, eight days each), flights into Viet Nam to take and bring home GIs, and just a few scares. Watching the video brought back many memories for her.  The uniform you see in the video is the one she wore when she flew with Pan Am to all of the places shown.
Just imagine having to travel today in the primitive squalor of the unlamented golden olden days!  Unpleasant flight attendants back then lacking adequate supervision and training? Uncomfortable, noisy and cramped old airplanes?  The Pan Am Boeing 747s on which Jeanie flew merely devoted the entire upper cabin to a bar! Scandalous! Accustomed to the pleasures of air travel today, no modern passenger would tolerate such meager comforts. That's why we all so greatly enjoy air travel today. It's a lot better and cheaper now — just like lives.
If you want to read about the early period, Ernest K. Gann's Fate is the Hunter
is a great place to start.  Gann (1910 – 1991), a marvelous writer, was one of the early pioneers. His story begins with the early air shows, proceeds to air mail in open-cockpit aircraft, then to the DC 2 and DC3 and finally to the first commercial jet aircraft.  His is a story well told of tremendous changes in a relatively short period.  Gann's last FAA flight check ride was with my former flight instructor and best friend, Wade Cothran. Sadly, both are now long dead. Still history continues, sometimes for the better and sometimes not. A certified old fart, I probably don't understand which is which or why.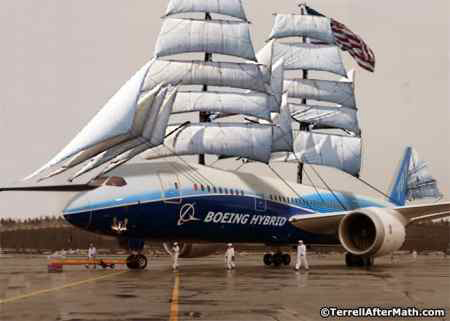 The Next Wave?
Update: Might this be the next advance in aviation?
(This article was also posted at Dan Miller's Blog.)
Articles written by Dan Miller
Tags: 747, aircraft, airlines, aviation, comfort, cost, crew, Pan Am, satire
Categories: History, Life | Comments (5) | Home
Leave a Comment
(To avoid spam, comments with three or more links will be held for moderation and approval.)