February 2nd, 2011
By Tom Carter
You can tell an event is a big deal when the TV media stars parachute in to report from the scene.  Before their arrival, the reporting is done by the more serious TV crews who work regularly in difficult and sometimes dangerous parts of the world.
The uprising in Egypt is now officially important because Anderson Cooper of CNN and Christiane Amanpour of ABC (formerly of CNN) are on the scene.  As usual with people of their ilk, they've made the story at least partly about themselves.  Cooper and his crew got chased by a crowd, and he was personally bopped on the head a few times.  Not to be outdone, Amanpour and her crew were attacked by a crowd that roughed up their car and broke the windshield (she wouldn't have gone for the head-bopping).  Of course, these became major news stories — not about the news itself, but about the stars.  Did they gin these events up, or at least help them happen?  If necessary, they would have.
Let's remember who these two narcissistic media stars really are.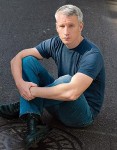 Anderson Hays Vanderbilt Cooper is the quintessential media elite, a rich and pampered New Yorker, son of none other than Gloria Vanderbilt.  He shouldered his way into CNN, displacing Aaron Brown, a more serious journalist than Cooper will ever be.  This is a man who's never lived a normal day in his life; he has no idea what life is like for the great unwashed masses who live outside the wealth and comfort of the New York glitterati lifestyle.  He works hard to appear fair and balanced, but despite his best efforts his liberal ideology shines through.
Cooper made his bones reporting from New Orleans in the aftermath of Hurricane Katrina.  He was complicit in the inaccurate reporting that swirled around the event and actually impeded relief efforts — false reports of shooting at helicopters, murders and rapes, etc.  His Katrina coverage was most notable for the way he personalized it, standing before the camera in his signature muscle shirt sobbing his little heart out.  Even Jon Stewart called him out on the crying on camera trick, and he hasn't done it again that I've noticed during the various crises that have merited his appearance.
Christiane Amanpour is Iranian-British, another scion of wealth and privilege, extremely liberal and defiantly anti-American.  Amanpour was chief international correspondent for CNN, whatever that means, then jumped to ABC.  She's married to Jamie Rubin, former chief mouthpiece of the State Department during the  Clinton Administration.
Amanpour has a well-deserved reputation for being pro-Muslim and anti-Israel, and she clearly demonstrated her bias in her reporting from the former Yugoslavia in the early 90s.  She was the lead proponent of the media story line that all Serbs were bad, while all Bosnian Muslims and Croats were merely the victims of brutal Serb aggression.  This was a classic example of picking some facts, ignoring others, and spinning and then promoting a biased media narrative that has become accepted as fact.
Amanpour's bias was on open display during the 60th anniversary of D-Day.  She interviewed a number of D-Day veterans, asking them the usual questions about their experiences on that remarkable day.  Then, at the very end of each interview, the veteran made a negative remark about the war in Iraq.  In a couple of cases when the aged veteran forgot, she prodded him by asking what he thought about Iraq, after which he dutifully recited his opinion of how bad it was.
Cooper and Amanpour have both won their share of awards from their adoring colleagues.  Amanpour has also been made a Commander of the Order of the British Empire (CBE) by Queen Elizabeth II, although, alas, this isn't high enough in the pecking order to officially merit the title "Dame."
Those who watch reports by Cooper and Amanpour should always remember who and what they are.  Their reports are always going to be reflective of their own importance, and accuracy is not their primary concern.  The unfortunate fact is that in crises like Bosnia, Katrina, and Egypt, their brand of reporting, designed to emphasize their own importance, can have very negative consequences for the normal people they know so little about.
Articles written by Tom Carter
Tags: Amanpour, bias, Cairo, Cooper, crisis, Egypt, elites, liberal, stars
Categories: Media, News, Politics | Comments (3) | Home
Leave a Comment
(To avoid spam, comments with three or more links will be held for moderation and approval.)