December 4th, 2008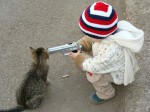 St. Louis alderman Charles Quincy Troupe is encouraging residents to arm themselves.  Troupe said, "The community has to be ready to defend itself, because it's clear the economy is going to get worse, and criminals are getting more bold."  As far as relying on the police is concerned, he said a senior police official told him "there was nothing he could do to protect us and the community … that he didn't have the manpower."
Great.  That's all we need–more guns, especially handguns, in the hands of the general public.  That means more children killed by guns because their idiot parents left them available and loaded, more innocent people shot by mistake, more guns in the hands of criminals who've stolen them, and growth in the booming business of selling illegal guns.
I support gun control, as I wrote earlier.  In a nutshell, severely restrict handgun possession and improve controls over long guns.  If the criminals have guns, which they do, then take them away.  Impose long prison sentences for possession and use of illegal handguns.  If the police are ineffective, for whatever reason, then make them effective.  Look at how most cities and states spend money, and you can make a very long list of things less important that effective policing.
Our rate of death by handgun is a national disgrace, and we should do something about it.  Controlling guns is the only answer.  Too bad our leaders, in both parties, don't have the necessary wisdom and political courage.
Articles written by Tom Carter
Tags: gun control, Law
Categories: Politics | Comments (12) | Home
Leave a Comment
(To avoid spam, comments with three or more links will be held for moderation and approval.)