June 9th, 2009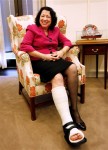 David Brooks supports the nomination of Judge Sonia Sotomayor to be an Associate Justice of the Supreme Court. 
Brooks is a veteran journalist and political commentator, now a columnist for The New York Times, in addition to commentating on TV.  At the NYT, he's seen as the resident conservative.  He does, indeed, seem like a reincarnation of Ronald Reagan in the minds of the denizens of that leftist swamp.  In reality, Brooks is a moderate who is capable of leaning left or right, depending on the merits of specific issues.  His judgment is sound, and his opinions are respected.
That mention of who Brooks is leads-in to a discussion of the position he took in his column in The New York Times yesterday.  It's important to understand that while his desk is located at the NYT, his mind is free.  After some thought and research, Brooks has concluded that Sotomayor is both more and less than she appears to be — and it's all for the good.
In Brooks' opinion,
[Sotomayor] happened to attend Princeton and then Yale Law School in the 1970s. These were the days when what we now call multiculturalism was just coming into its own. These were the days when the whole race, class and gender academic-industrial complex seemed fresh, exciting and just.

There was no way she was going to get out of that unscarred. And, in fact, in the years since she has given a series of speeches that have made her a poster child for identity politics. In these speeches, race and gender take center stage. It's not only the one comment about a wise Latina making better decisions than a white male; it's the whole litany. If you just read these speeches you might come away with the impression that she was a racial activist who is just using the judicial system as a vehicle for her social crusade.

And yet her history and conversations with her colleagues suggest this is not the main story. If you look at the whole record, you come away with the impression that Sotomayor is a hard-working, careful-though-unspectacular jurist whose primary commitment is to the law. …

She is quite liberal. But there's little evidence that she is motivated by racialist thinking or an activist attitude. …

Tom Goldstein of Scotusblog conducted a much-cited study of the 96 race-related cases that have come before her. Like almost all judges, she has rejected a vast majority of the claims of racial discrimination that came to her. She dissented from her colleagues in only four of those cases. And in only one of them did she find racial discrimination where they did not. Even with what she calls her "Latina soul," she saw almost every case pretty much as they did.  

When you read her opinions, race and gender are invisible. …

Looked at in her totality, Sotomayor seems to be a smart, careful, hard-working judicial professional, who along the way picked up a patina of 1970s race-, class- and gender-consciousness. …

In short, Sotomayor's career surpasses the crude categories she sometimes articulates. Despite the ideas she picked up while young, she has, over many years, chosen to submit herself to the discipline of the law, and she has not abused its institutions. I hope she's confirmed.
That reinforces the opinion I've already formed.  Sotomayor is a liberal, for sure — that's what you get, folks, when you elect a liberal president and give the majority in both houses of Congress to Democrats.  Nothing wrong with it; that's just the system working as it should.  Far as I can tell, aside from an unfortunate tendency to run her mouth too much now and then about race and ethnicity, she's a pretty solid judge.
Don't take my word for it — listen to David Brooks.
Articles written by Tom Carter
Tags: Law, Sotomayor, Supreme Court
Categories: News, Politics | Comments (5) | Home
Leave a Comment
(To avoid spam, comments with three or more links will be held for moderation and approval.)