August 3rd, 2009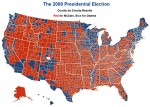 In Blue-State Blues in The New York Times, Ross Douthat discusses President Obama's need to take a new look at the differences between so-called red states and blue states.  Obama has often maintained that he doesn't see red and blue states; he sees just one country.  That's fine, but his politics and policy preferences directly reflect blue-state thinking, and the ideas he rejects are common to the red states.
There are obviously lots of fallacies in the red-state, blue-state paradigm.  A state can get its color by a very narrow margin in a state-wide election.  But that one factor obscures many, many other differences in the states.  A county-by-county depiction of red and blue, as shown in this map, is much more instructive.  It permits you to think about who lives in the red or blue counties, why they're likely to have voted one way or another, and what their policy preferences are likely to be.  You can be sure that politicians and political operatives understand this.
However, one value of the red-state, blue-state paradigm is it permits a comparison of how states with Republican majorities are doing compared to states with Democratic majorities.  It shows, within limits, what kinds of policies state governments are likely to prefer and to implement state-wide.
The point Douthat makes is the President might benefit from considering the way things are done in different states and what the outcomes are.  Texas and California are the primary examples:
The red-blue contrast is often overdrawn. But it's a sensible way to understand Obama's summer struggles. On health care, energy, taxes and spending, he's pushing a blue-state agenda during a recession that's exposed some of the blue-state model's weaknesses, and some of the red-state model's strengths.

Consider Texas and California. In the Bush years, liberal polemicists turned the president's home state — pious, lightly regulated, stingy with public services and mad for sprawl — into a symbol of everything that was barbaric about Republican America. Meanwhile, California, always liberalism's favorite laboratory, was passing global-warming legislation, pouring billions into stem-cell research, and seemed to be negotiating its way toward universal health care.

But flash forward to the current recession, and suddenly Texas looks like a model citizen. The Lone Star kept growing well after the country had dipped into recession. Its unemployment rate and foreclosure rate are both well below the national average. It's one of only six states that didn't run budget deficits in 2009.

Meanwhile, California, long a paradise for regulators and public-sector unions, has become a fiscal disaster area. And it isn't the only dark blue basket case. Eight states had unemployment over 11 percent in June; seven went for Barack Obama last November. Fourteen states are facing 2010 budget gaps that exceed 20 percent of their G.D.P.; only two went for John McCain. (Strikingly, they're McCain's own Arizona and Sarah Palin's Alaska.) Of the nine states that have raised taxes this year, closing deficits at the expense of growth, almost all are liberal bastions.
My views on domestic policy issues are generally liberal, and at a gut level I support most of the kinds of policies promoted in blue states.  However, I'm not blind to the results of policies, the successes and failures that indicate whether a particular approach does or doesn't work.  I agree with Douthat's analysis, and I would add one more point that he didn't make — Texas manages to do quite well, thank you, without a state income tax.
Articles written by Tom Carter
Tags: California, economy, Obama, Texas
Categories: Economics, Politics | Comments (9) | Home
Leave a Comment
(To avoid spam, comments with three or more links will be held for moderation and approval.)