March 4th, 2010
By Tom Carter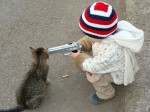 The Supreme Court is considering Chicago's handgun ban in McDonald v. Chicago, which is likely to result in the law being invalidated and the Second Amendment being incorporated against the states.
I strongly support gun control, particularly for handguns.  It has to be done by the federal government because local controls simply don't work.  Although I doubt that he would agree with my position, Steve Chapman makes the point in a column today at Real Clear Politics:
When Chicago passed a ban on handgun ownership in 1982, it was part of a trend. Washington, D.C. had done it in 1976, and a few Chicago suburbs took up the cause in the following years. They all expected to reduce the number of guns and thus curtail bloodshed.
And what happened in these two cities after they banned handgun ownership?
In the years following its ban, Washington did not generate a decline in gun murders. In fact, the number of killings rose by 156 percent — at a time when murders nationally increased by just 32 percent. For a while, the city vied regularly for the title of murder capital of America.

Chicago followed a similar course. In the decade after it outlawed handguns, murders jumped by 41 percent, compared to an 18 percent rise in the entire United States.

One problem is that the bans didn't actually have any discernible effect on the availability of guns to people with felonious intent. As with drugs and hookers, when there is a demand for guns, there will always be a supply. …

This is especially true at the local level. Banning guns from one city makes about as much sense as banning them on one block.

It's hard enough to halt the flow of guns over international borders, where governments police traffic. It's impossible to stop them from crossing municipal boundaries — which are unmonitored, undefended and practically invisible.

Tens of thousands of cars enter Washington and Chicago each day from places where guns are easily and legally obtainable. Any of those vehicles could be transporting a carton of pistols to sell to willing thugs. If you're on an island, you're going to get splashed by the waves.
McDonald v. Chicago will become a landmark decision if the Court uses it to incorporate the Second Amendment against the states (and lower levels of government).  Some may not know this, but the Bill of Rights was originally intended to apply only to the federal government as a means of limiting its power.  However, over the years most of the Bill of Rights has been extended to apply to all levels of government.  (Wikipedia has an excellent summary.)
The Second Amendment should be incorporated against the states.  It doesn't make sense to interpret the Constitution as permitting states, counties, cities, school districts, and what-not — there are almost 90,000 local governments in the U.S. — to deny or limit rights that the federal government can't deny or limit.
However, Congress should immediately pass a law banning all private possession of handguns, and the President should sign it.  I know that isn't going to happen, but it should.  There would be court challenges, of course, but I think carefully-worded legislation could survive scrutiny.  The only point that would have to be made, both in the law and before the courts, is that if the federal government can ban some types and classes of firearms — which is firmly established — it can ban any type or class of firearms.
Handguns are designed for the specific purpose of killing people.  No reasonable person uses them for hunting, and there are much more effective weapons for home defense — a shotgun is the best weapon for that purpose, in fact.  Banning handguns might be a minor convenience for those who like to go to the range and blast away at targets — ever notice that many are human-shaped? — but that's a minor sacrifice, considering the number of lives taken by handguns every year.
Would criminals still have handguns if private possession were prohibited?  For a while, yes.  But with rigorous enforcement and much longer sentences for any offense in which a handgun is used, that problem could be brought under control over time.  And let's face facts — very few private citizens get in gunfights with the bad guys, John Wayne fantasies notwithstanding.  When it does happen, the cowboy wannabes usually don't have the moxie to do it right, and the bad guys are most likely to win.
I spent my life using weapons of all kinds, from pistols and assault rifles to artillery and aerial rockets.  I've slept many a night with a pistol at hand and a rifle within easy reach, for very good reasons.  I've also seen highly-trained soldiers have deadly accidents with firearms, and I've read accounts of other professionals, including police officers, having the same problems.  Frankly, the idea of all those handguns out there in the possession of largely untrained people ought to scare the hell out of all of us.
It's time to join the modern world and get rid of handguns in America.  Those whose handguns represent a validation of their manhood can find another ersatz phallus — maybe a Bowie knife in a fancy scabbard would do the trick.
Articles written by Tom Carter
Tags: gun control, handguns, local laws, Second Amendment, Supreme Court
Categories: News, Politics | Comments (15) | Home
Leave a Comment
(To avoid spam, comments with three or more links will be held for moderation and approval.)