November 17th, 2010
By Tom Carter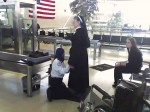 The Transportation Security Administration (TSA) is deploying more full body scanners at airports, and they've instituted new and aggressive pat-down procedures.  If you opt-out of the full body scan for any reason, or if they pick you at random, you're going to get petted, patted, groped, and stroked in all your private places.
The press and the blogosphere is alive with complaints, horror stories, and threats to boycott airline travel.  In the article just below, my friend Dan Miller very effectively makes the points that TSA's procedures violate the Fourth Amendment and aren't totally effective.
What's the alternative?  Would you rather risk being blown out of the sky than have your body scanned or your privates groped?  Even though TSA security procedures can't be 100 percent effective, they will detect some threats and deter others.  That means that people won't die in a terror attack against an airliner.  Some of those people may be you, your family, your friends  — or me.
So scan and grope, TSA.  I can take it, quietly and cooperatively but with gritted teeth.  I hope a better way can be found, and soon.  But until then….
Despite the uproar, TSA isn't backing down, even for those who object to screening on religious grounds.  According to the Administrator,
TSA chief John Pistole told the Senate Homeland Security Committee … that passengers who refuse to go through a full-body scanner machine and reject a pat-down won't be allowed to board, even if they turned down the in-depth screening for religious reasons.

"That person is not going to get on an airplane," Pistole said….
I understand why people are angry.  The photo above shows a TSA officer, apparently a Muslim woman wearing a hijab, patting-down a nun.  The photo, actually from 2007, is all over the internet and seems to be legitimate.  But why the outrage?  Qualified Muslim women are obviously allowed to join TSA, and the one in the photo may be more outraged about terrorism and more concerned about the safety of the flying public than you or I.  And what better place to hide explosives than under a nun's habit, whether the nun is real or an impostor?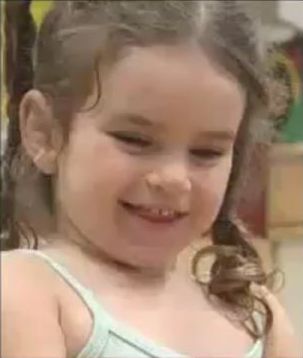 What pains even more is an incident a while back in which a happy, smiling three-year-old girl (left) was reduced to hysterics and screams of "Stop touching me!" during a TSA pat-and-grope.  Click here or on the image below to see a video news report of the incident.
The little girl is the daughter of a local TV reporter, and he caught much of the incident on cellphone video.  Then he went back to the airport and filmed a report, to include interviewing a TSA supervisor.
Adults and especially children are being touched in ways that would normally result in someone going to jail.  Enraging though that might be, I have to ask again:  What's the alternative?  Islamic terrorists have shown a complete willingness to strap bombs on children and blow them up.  Who says the child couldn't be an adorably cute, all-American-looking little girl?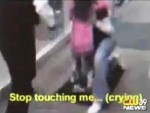 Some say that we should stop patting-down nuns and little children and start doing what the Israelis do.  Sounds nice, but it won't work.  Israel is a small nation under siege, and Israelis expect to live in a high-security environment.  They don't have to deal with that many passengers.  They already know a lot about people even before they show up at the airport.  And they profile passengers (gasp!).  So much for that solution.
I asked, "What are the alternatives?"  Well, there are some, but they're either impractical, impossible, or illegal.  Here are a few examples of what I mean:
Defeat Islamic terrorism.  Sure, that's the answer, but the question is how?  We've been fighting them since 9/11, but the truth is we aren't even fighting the real enemy for the most part.  After we defeated the Saddam regime in Iraq, we went on for years fighting for…something.  After we defeated the Taliban in Afghanistan and drove out all or most of al-Qaeda, we've gone on fighting for…something, and there's no end in sight.  Meanwhile, Islamic terrorists continue to direct attacks against us from Yemen and other places.  Now we have an Administration that won't even admit that there's such a thing as a "War on Terror" and prefers to treat those determined to destroy us as common criminals.  Defeat Islamic terrorism?  Not likely, and certainly not soon.
Get serious about homeland security.  That means overcoming all the PC nonsense that hogties us now.  The threat is from Muslims, foreign or home-grown.  We could profile openly and without reservation.  When a person shows up at the airport who is obviously Muslim or otherwise looks suspicious in the opinion of a trained TSA officer, he, his wife, his kids, and his dog could be scanned and patted-down.  That would be unfair for the vast majority of Muslims, and I'm sorry about that.  Maybe that would even discourage Muslims from emigrating to the U.S., and I'm a little sorry about that.  Are we willing to do this, even though it strains the Constitution to nearly the breaking point?  No, and we shouldn't be.
There isn't a viable alternative for those who have to travel long distances.  The price of flying is going to be scanning, patting, and groping for the foreseeable future.  That means continued victimization of nuns, retired U.S. Army officers, and now and then an innocent Muslim who gets randomly selected.  Worse, children are going to continue to be touched in ways that under any other circumstance would constitute illegal molestation.
And there's one thing we all should do:  Treat TSA officers with the same courtesy and respect we show police officers, firemen, EMTs, soldiers, and others who do often unpleasant jobs in order to protect us.  Personally, I haven't encountered or observed a TSA officer who wasn't polite and professional.  Once I got a close inspection and a detailed pat-down (not the new style) after I beeped the metal detector.  When it was over, I shook the officer's hand and said, "Thank you."  Didn't cost me anything, and probably made his day.  Give it a try next time.
Articles written by Tom Carter
Tags: alternatives, body scan, islamic, Muslim, pat-down, security, terrorism, TSA
Categories: Law, News, Politics | Comments (22) | Home
Leave a Comment
(To avoid spam, comments with three or more links will be held for moderation and approval.)